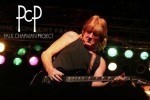 PAUL CHAPMAN
Paul William Chapman (9 June 1954) is best know for his work with the rock group UFO. On a personal note; Paul Chapman is also known as "Tonka" allegedly acquired because of his indestructible qualities.
In Paul's early career, his first notable band was the Welsh outfit Universe. Chapman then joined Skid Row in December 1971 replacing Gary Moore as guitarist. His tenure was fairly short and only lasted until July 1972. His next band was Kimla Taz, with whom he was guitarist from December 1972 to May 1974.
Chapman first joined UFO in 1974 as a second guitarist to augment their live sound having answered an advert in UK's music paper, Melody Maker. He auditioned at the Unity Theatre in London. Although Chapman did not record an album during this period, he did join in time to tour and promote the Phenomenon album. However, he can be heard with the band on several tracks on the BBC live sessions album that was released retrospectively. He left UFO in January 1975 and went on to form Lone Star, where he remained until June 1978.
In 1977, he filled in for Michael Schenker in UFO when they were on tour with Rush in the United States during one of the German guitarist's absences.