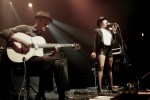 SWINGROWERS
Swingrowers (pronounced "Swing-Growers") are a young, dynamic Italian duo from Palermo in Sicily. The pair take their name and inspiration from the farming tradition of their local villages where cultivating plants in the arid countryside is a much-prized art, taking time and skill. So the duo aim to take vintage swing and with respect and nurture, breathe new life into an old tradition.
Roberto Costa a.k.a. "Pisk" and Loredana Grimaudo, melt perfectly together past musical experienced which become fertiliser for the "Swing-Growers". The idea of electro-swing sound came after discovering new sounds, like the French band Caravan Palace's ones. Here the brave enterprise to launch on a "dry land" like Italy.
The encounter with manager Giulio Castronovo is a turning point towards the unexpected. Just in few months our artists start their tour around the Europe , passing by famous clubs like London's Hootananny and Paris's La Javà (performing on the same stage as Edith Piaf and Django Reinhardt), and also important events like Electro Swing Club of London and Milan, the Electro Swing Cabaret organized by Bebop Swing of Lyon and Toulouse, Turin's Swing Circus, Nottingham's Jitterbug, Palermo's Hoppa Fest and Brighton's and London's stages of White Mink tour.
At the beginning of 2012 Swingrowers won the contest "Electro-swing People Favourite 2011" as "Best Hope" 2012, with which they take place in the Electro-swing world chart.
Their first album produced by Freshly Squeezed Music is out from 9th September 2012.
"These guys are complete naturals and a very exciting find for us." said label boss Nick Hollywood. "For me they were a complete stand-out in the world of electro swing, coming out of nowhere with a very polished sound. We are very pleased to have signed them."
The Swingrowers support Parov Stelar at his Sold Out Koko show on 31st May with many UK and European festival appearances over the summer, like The Secret Garden Party.
In November 2012, they had a great and amazing experience: opening Caravan Palace in three sold out gigs in UK (21st Nov in London, 22nd Nov in Brighton and 24th of Nov in Norwich)
The latest news that intrigue fans is the newly formed trio of Swingrowers! Alessio Costagliola and his manouche guitar give a blast in the live show! Currently the trio is getting great demand in plenty of international festivals.
"We are already working to produce new pieces that will make the live show more dynamic and exciting.