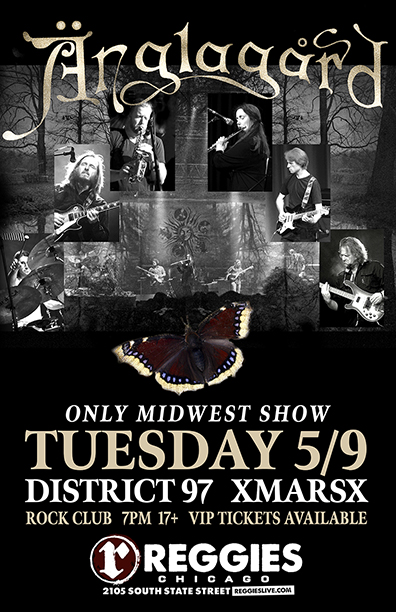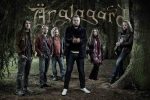 Änglagård
A Swedish progressive rockband formed in 1991. Released three records and a live album. Recently awoken from the dead with a new album "Viljans öga" and live shows…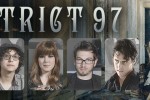 DISTRICT 97
District 97 is undoubtedly the most musically adventurous rock band in the world to feature an American Idol Top 10 Female Finalist. The release of 2012's critically-acclaimed Trouble With Machines ushered in an exciting era for the Chicago-based Progressive Rock band; In 2013, the band toured both Europe and the US with legendary bassist and vocalist John Wetton (King Crimson/UK/Asia), which was documented on 2014's live release, One More Red Night: Live in Chicago. 2013 also saw the band nominated for a Breakthrough Artist Award by Prog Magazine. Rather than rest on their laurels, District 97 took to the studio in 2014 to record the new material they'd been honing at home and on the road. The resulting album, In Vaults (due in June 2015), continues and accelerates the upward trajectory of great songwriting and incredible musicianship that's been evident since the band's 2010 debut, Hybrid Child. One listen perfectly illustrates why John Wetton says, "I've said it before, and I maintain that D97 is the best young progressive band around right now. Gifted players, great material, and a brilliant, charismatic singer in Leslie Hunt.
DISTRICT 97 was formed in the fall of 2006 by drummer Jonathan Schang, keyboardist Rob Clearfield, bassist Patrick Mulcahy and guitarist Sam Krahn (replaced in 2008 by current guitarist Jim Tashjian). The foursome from Chicago honed a no-holds barred style of Liquid Tension Experiment-inspired Instrumental Rock before deciding the right vocalist was needed to complement their sound; enter 2007 American Idol Top 10 Female Finalist, Leslie Hunt. With a look, sound and stage presence comparable to a young Ann Wilson from Heart, Leslie's dynamic performances pushed the band into a new direction that forged a unique marriage between accessible, catchy vocal melodies and an adventurous instrumental prowess. She was followed shortly thereafter by one of Chicago's finest young guitarists, Jim Tashjian. With this new blend of charisma and stellar musicianship in place, their live shows over the past several years at festivals such as RoSfest and Prog Dreams II, and numerous appearances across the USA, UK and Europe cemented the band as a force to be reckoned with onstage, as well as in the recording studio.
In August 2015, Rob Clearfield and Patrick Mulcahy left the group and were eventually succeeded by Andrew Lawrence and TIm Seisser, respectively. The new lineup will debut in tours across Europe and the US in 2016.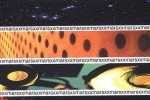 XMARSX
(Mars Williams of Liquid Soul)
A side projects of Liquid Soul's Mars Williams. It's a free jazz project that sounds like something fans of modern jazz will want to try out.
"XMARSX runs the absolute gamut with their rock-noise-improv-electric-funky-no-wave-jazz-punk, there's a unified focus to their sensibility. Along with Williams, guitarist Greg Suran (Goo Goo Dolls, Blue Man Group, Slam), drummer Dave Suycott (Machines Of Loving Grace, Stabbing Westward, Slam), and Kent Kessler (Vandermark 5, NRG Ensemble, Brotzmann Tentet) comprise the potent nucleus of XMARSX. Additional contributions from Williams' longtime associate, cellist Frederick Longberg-Holm (Terminal 4, Witches & Devils, NRG, Brotzmann) adds both color and nuance to this capable ensemble.
Mars Williams is an open-minded musician, composer and educator who commutes easily between free jazz, funk, hip-hop and rock, Mars has played and recorded with The Psychedelic Furs, Billy Idol, Massacre, Fred Frith, Bill Laswell, Ministry, Power Station, Die Warzau, The Waitresses, Kiki Dee, Pete Cosey, Billy Squier, DJ Logic, Wayne Kramer, John Scoffield, Charlie Hunter, Kurt Elling, Swollen Monkeys, Mike Clark, Jerry Garcia, Naked Raygun, Friendly Fires, The Untouchables, Blow Monkeys and virtually every leading figure of Chicago's and New York City's "downtown" scene.
$60 Front Row Section
includes reserved chair in a section of chairs closest to stage.
$60 Red Chair
includes reserved seat in plush red chair in balcony above bar across from the stage.
$45 Above Stage
includes Above Stage access to balcony situated directly above either side of the stage.