Frantic Flintstones have CANCELED their US tour. Reggies is flying in Rezurex from Los Angeles to take their place. This will be their first time ever playing Chicago!
Lets show Rezurex why Chicago Rocks…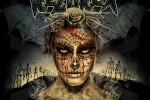 REZUREX
Clearly Rezurex has risen from the grave and awoken the dead. A refreshing style of musical mayhem that stands alone in the current music scene, Rezurex brings back the roots of early 1950's rock n' roll and combines them with influences of the 1980's that have long since been forgotten by mainstream music. Rezurex hails from Los Angeles, California, and is influenced by numerous bands and artists including the Stray Cats, The Damned, Billy Idol, The Misfits, Elvis Presley, and The Cramps. They have attracted numerous fans with their haunting lyrics and adventurous spirit. In 2006, Rezurex released their debut album, "Beyond the Grave" on Fiend Force Records (Germany) and quickly caught the attention of Psychobillies, Punks, Goths, Metal heads, and anyone that truly loves catchy sing-along music. In 2008, Rezurex released their second album "Psycho Radio." The 13 songs found on Psycho Radio include the heartbreaking "Tonight", a melodic punk psycho anthem entitled "Psycho Radio" and "Vampira Calling", a tribute song to the late, great, 1950's television undead hostess, Vampira who passed away in January 2008. In addition , vocalist Daniel deLeon, who has already been recognized for his previous bands, has begun an acting career in television and independent films. This world-touring band keeps busy entertaining audiences with their theatrics and energetic performances year round. Not a show to miss, Rezurex has converted many with their unique sound and stage presence. ..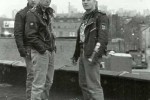 THREE BLUE TEARDROPS
Three Blue Teardrops formed in the fall of 1991. A three piece trio of drums, upright bass and guitar, the band began writing and performing original songs that combined elements of 1970's punk , gut bucket blues, jungle swing, gospel, garage rock, hillbilly jazz and country harmony to the 1950's style raw rockabilly sounds of our Rock-N-Roll forefathers to create their own contemporary sound that was not stuck in the trappings of rockabilly, psychobilly, punk, blues or any single musical sub genre.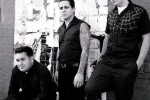 GAMBLERS MARK
It all started in the foothills of the San Gabriel Valley, where a young David discovered great Blues music at the local pub in the city of Arcadia. It wasnt long before False Idols was formed, they became an eclectic trio whose music style was difficult to coin. After invading the local music scene for nearly three years, the trio dedcided to go their separate ways. Meanwhile, the skills of a young musician were forming, as Dan-e took on the task of learning to play the drums. Inevitably, Dave and Dan-e decided to join forces and establish Gamblers Mark. They had a great run the first time around, but were faced with obstacles to overcome. In reinventing themselves and reinforcing the GM unit, they decided to let Dan-e take over the upright bass and call on Ricky Lobo to take over the drums and back-up vocals. With over nine years drumming experience Ricky proved to be a good choice for the missing link. Gamblers Mark fronted by guitarist and lead vocalist David Arechiga, with Dan-e Arechiga on bass and back-up vocals, and Ricky Lobo on drums and back-up vocals remains a trio whose style isnt easily coined. They bring together many sounds including Rockabilly, Psychobilly, Surf, Ska, Corridos para mover las nalgas, and reved up 50s rock n roll.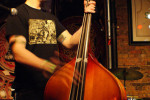 NOTHING TO GAIN
From the fires of hell they rise with powerful guitar riffs, pounding bass lines, and intense drummming to make a permanent scar on the Chicago music scene. With influences such as The Koffin Kats, Mad Sin, Eddie Cochran, and Johnny Cash they're not here to tell you how to dress, who to be, or what to believe in. They sing of your nightmares and quiet possibly some of your dreams. Lifes to short to worry about money, politics, and religion so fuck all of that and lets have a good time!!