The Music Joint is 21+. If you are under 21, you must be with a parent or legal guardian to enter. Families are welcome. The Music will be in The Rock Club and it is All Ages.
A cash parking lot will be available at the corner of Cermak and Wabash, Free Rides on the Reggie Bus to Soldier Field and back. Multiple runs will be made.
Come on out and enjoy some great food, music and fun, before and after the big game.
Do you have a big group that wants to reserve some seating or party packages? Contact Jody Zagger to plan your event.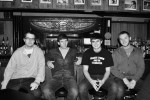 JOHN JUNE YEAR
Full time students at University of Iowa, and Northern Iowa, though always sidetracked by our music ambitions. We all reside from the small town of Clinton, Iowa. Currently we are working on demos, and picking up gigs. We are influenced by: Arctic Monkeys, The Strokes, The Black Keys, Surfer Blood, Tapes 'n Tapes, and The Vaccines. We would consider ourselves Indie Rock with a touch of pop. Differenciating ourselves from other bands is important to us, but we still want to bring you that Rock n Roll feel that we all love (or once loved).