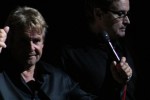 JOHNNY J BLAIR
Singer at Large and recording artist Johnny J. Blair is known for his innovative brand of "pop music with a twist," a fast-paced mix of old school soul/rhythm and blues, psychedelia, punk/new wave, and a melodicism breathed by classical, gospel, jazz, and world beat. Goldmine Magazine said his music is "pop music with a conscience," while Spotlight Magazine dubbed Blair "the Harry Houdini of rock and roll" for his ongoing "escape from typecasts." Urban humor, romantic abstraction, and bittersweet spirituality are images in Blair's lyrics. His vocabulary is influenced by the Bible, classic comedy (Charlie Chaplin, Marx Brothers), film noir, the poetry of T.S. Eliot, and the writings of Raymond Chandler, Graham Greene, and John Steinbeck. Common song subjects are metropolitan allegories ("She's Not Some Animal"), apocalyptic justice ("Throw the First Stone"), surreal road trips ("Desert Ruby"), and nutty nostalgia ("I Wanna Bein Pennsylvania"). As a solo act, Blair performs with "a vivid energy."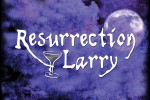 RESURRECTION LARRY
Described by Chicago Tribune as "Pink Floyd vs. Led Zeppelin in a Barfight on Mars" Resurrection Larry has been delivering a full concert experience to audiences in the Midwest for the past 3 years. Augmented by the addition of a "Heavenly Choir" of concert quality vocalists, Resurrection Larry shows are even more engaging and interactive. Resurrection Larry is a "Don't Miss" Show.
–Chicago Music Scene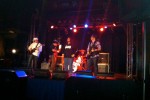 JUPITER THEORY
Creating a Second Sun
Plunging into Jupiter's deep and increasingly dense atmosphere, the on-board Galileo electrical power supply a set of 144 plutonium-238 fuel pellets would ultimately implode; that the plutonium Galileo carried would ultimately collapse in upon itself under the enormous pressures of Jupiter's overwhelming atmosphere.
Triggering a runaway nuclear explosion…and igniting Jupiter as the solar system's second sun.