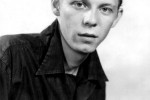 JOHNNY POWERS
Powers confesses that his first love is performing the music in front of live audiences. Each visit he says results in a growing legion of international fans. One of his favorite memories is playing a country music festival in France, which was hosted by a TV star, Patrick Duffy. The enthusiastic audience response resulted in Powers receiving an invitation to the event's VIP tent, where high-ranking French politicians and celebrities entertained him.
Powers' reputation as one of Michigan's preeminent progenitors of rock 'n' roll was secured by a May 1999 article in the Detroit News, in which he was included with Bob Seger, Berry Gordy, Jr., and the MC5 in a "Michigan at the Millennium" list of the state's musical heroes. Powers is perhaps best known as the music legend who recorded a rock 'n' roll classic seminal hit,
"Long Blond Hair," a song that continues to thrill rockabilly aficionados witnessing Powers' live performances, listening to reissues of the original recording, or tapping their feet while enjoying the song's appearance on the soundtrack to the ShowTime Cable Network's film, Reform School Girls.
The song's infectious popularity is evidenced by the anecdote Powers relates in which he was approached after a Detroit gig. "I just finished a show with Aaron Tipin, and a fan told me he finally got a chance to hear me do "Long Blond Hair." It was one of his all-time favorite songs." The fan turned out to be Ed Salamon, Westwood One's radio network president of programming at that time.
Johnny Powers performance of a song "Say It" is in the film production of Mosquito also on DVD which airs on SiFi and Cable Networks and it continues to air on U.S. and International Television Networks today.
THE DYES
Chicago-based trio, The Dyes, infuse 60s inspired garage-rock with infectious 50s rockabilly undertones to create a punchy and melodic, yet raw rock n' roll sound. By digging up the roots of influences such as: Hank Williams, The Cramps, Wanda Jackson, and The Flat Duo Jets, this female-fronted trio is sure to catch the ears of a wide-spectrum of music lovers as they toss hints of punk, surf, blues, and country into the mix, and stir it up with their own unique twist.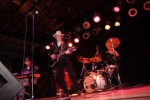 KENT ROSE
Hear the high-lonesome sound of Hank Williams, Sr., the rocking tenderness of Buddy Holly, and the soul-pop stylings of Arthur Alexander whenever I step to the microphone in my Stetson and boots, trusty guitar in hand. I am Kent Rose, the Voice that Remembers. Get to know the music and mystery of this hillbilly singer from Glencoe, Illinois, and how I survived a career at the post office while creating a catalog of classic original tunes, as well as mastery of familiar gems of the Americana roots genre.