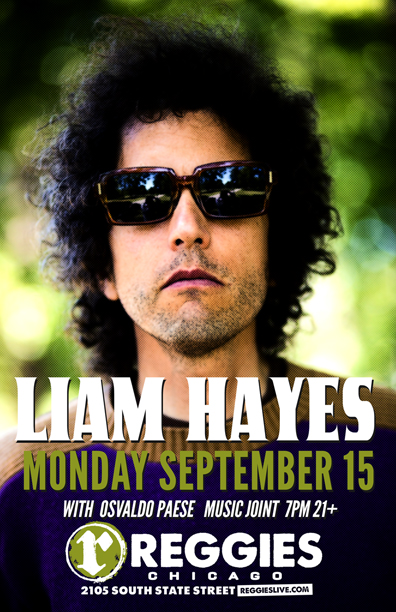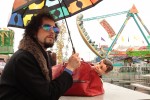 LIAM HAYES
"It was surreal," says the Chicago composer and performer Liam Hayes, about appearing in the forthcoming Roman Coppola film A Glimpse Inside the Mind of Charles Swan III. "I haven't played many gigs on a beach with a Hammond organ, you know?" Hayes, who has made music under the name Plush since the early '90s, was contacted by Coppola after the director became a huge fan. "I just got so absorbed by his music," Coppola recently told GQ (UK) about Hayes and Plush.
The result of this appreciation was Hayes and Coppola making a soundtrack out of Hayes' music. "It evolved," says Hayes. "When we met to discuss the project we talked about possible songs. We talked some more, added a few more songs, and I ended up doing the score." Hayes also appears in the film performing the tune "So Much Music." It isn't his first time onscreen: In 2000 he appeared in High Fidelity performing his song "Soaring and Boring". His imaginative, atmospheric, cinematic style is well suited to movie soundtracks, and his Charles Swan soundtrack is made up of songs from Fed, Bright Penny and the forthcoming Korp Sole Roller along with music written specifically for the film.
Hayes has been making critically acclaimed pop records since 1994, when he released the single "Three-Quarters Blind Eyes" b/w "Found a Little Baby". Considered by many to be a pop classic, it helped to establish him as a songwriter. In 1998, he released More You Becomes You, a spare, stripped-down collection of his intimate tunes. In 2002, he released Fed, a lush, orchestral album. 2009's Bright Penny, an ode to pop music, was released under the name Liam Hayes and Plush. Although he emerged from the Chicago indie-rock scene, Hayes is often compared with artists such as Jimmy Webb, Brian Wilson, Laura Nyro, Burt Bacharach and Harry Nilsson. Like some of the best folk-pop or soft soul from the 1960's of 1970's there is a timeless quality to his music.
Hayes is not the kind of artist who spends all day interacting on social media. He doesn't reveal a lot in interviews. He's not trying to be cagey or eccentric or elusive, he would just rather keep the focus on his songs. And let's face it, mystique is underrated in this era of over-sharing.
Liam Hayes and Plush plan to announce new releases in 2014.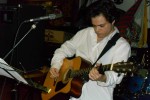 PALLUS LANDING
"A prolific home-studio musician in the tradition of the Magnetic Fields–he claims to have written and recorded 300 songs to date–Osvaldo Paese is an earnest young singer and songwriter with seemingly boundless ambition and a wildly diverse set of influences. Though he's clearly enamored of the Bob Dylan, Leonard Cohen and Neil Young schools, he describes his musical goal as evoking "Leonardo the Ninja Turtle singing the songs Britney Spears will be writing in the year 2169."
Nothing I've heard on his new seven-song demo, D.I.Y. album "Definitions" or the online jukebox on his MySpace page (http://www.myspace.com/osvaldopaese) is quite that far out. But my favorites in his catalog–"We Dot Com," "Whatever You Want Done" or "If You Had Nothing"–do sport a fascinating Beck-like love of psychedelic surrealism colliding with sudden clear-eyed social observations. "If you had nothing would you start living instead?" he asks amid the otherwise cheeky wordplay in the latter tune.
A versatile multi-instrumentalist particularly adept at Jimi Hendrix-meets-Syd Barrett electric guitar freak-outs, Paese performs solo acoustic at open-mike nights around town. Though he doesn't have any dates listed at the moment, he does offer a bounty of homemade videos on his YouTube channel (www.youtube.com/osvaldopaese), which means you can see him perform without even leaving the couch."
Jim Degrogatis (author, music critic for Chicago Suntimes)