I LOVE CHICAGO
"I love Chicago" is about encouraging a different narrative in 2017 and showing love to a city we call home. Hosted by the Chicago in 77 Project, "I love Chicago" will bring together several local authors to read stories about their relationship with the city. Share some of your favorite Chicago experiences while connecting with other local singles. Soulful and funky sounds provided by local Chicago band Willy Dynomite.
The Chicago in 77 (Ci77) Project was born out of the book with the same name – "Chicago in 77." Written and published by Karen Roddie, the book chronicles her day-to-day visits for work and fun through Chicago's community areas. The Ci77 Project aims to encourage residents to cultivate a deeper understanding of Chicago. Through a variety of events, The Ci77 Project will bring Chicagoans closer together to rebuild a network of trust among neighbors and neighborhoods. We may be 77 community areas, but we are one city.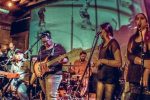 WILLY DYNOMITE
Serving up original sounds since January 2014 our music takes audiences deep into the minds of song writers: Josh Therriault and Stella Steel. Complete with a horn section and a duo of sultry back up singers we'll keep your hands clappin' and toes tappin'.
Josh Therriault has been playing saxophone, clarinet and flute professionally in Chicago since 1996. Heavily influenced by the blues, Josh lends his gritty sound to various projects throughout the city. In 2013, Josh completed a nine month stint as the primary saxophone player for the award-winning "Smokey Joe's Cafe" at The Royal George Theater. You can catch Josh performing on a regular basis with The Opposition Party, ContraBanda, The Morphtet, and of course Willy Dynomite.
Stella Steel (Stephanie Stahl) has been part of Chicago's music scene for 10 years. Originally from Cudahy, WI, Stella moved to Chicago in 2003 to study trombone performance at Northeastern Illinois University. After years of nurturing her inner song writer in 2007 Stella fronted her first band, The Heat Birds until 2011. Stella currently teachers privately at the School of Rock Evanston and as a music teacher at Rogers Park Montessori School. Currently, Stella can be found performing on guitar and vocals with Girlband, The Pryzmatics, Dean of Women, and Reality Bytes.