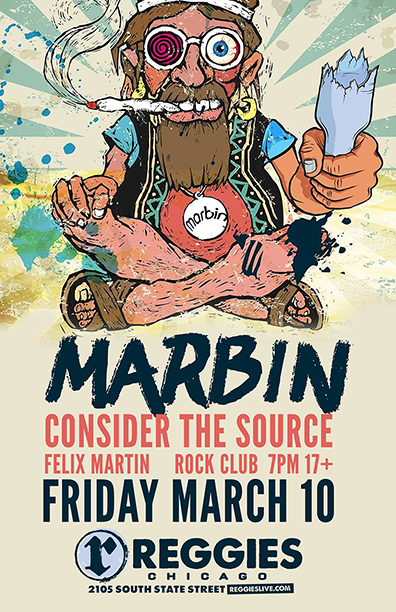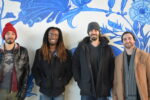 MARBIN
MARBIN is a progressive jazz-rock band based in Chicago, IL, with a unique story that stands out in today's music world. With a do-it-yourself approach, Marbin started touring extensively in 2011, bringing their original instrumental music to every part of the United States. Through word of mouth, Marbin has gained tens of thousands of devoted fans all over the world, and has sold tens of thousands of albums. Marbin has released six albums: Marbin (2009), Breaking the Cycle (2011), Last Chapter of Dreaming (2013), The Third Set (2014), Aggressive Hippies (2015), and Goatman and the House of the Dead (2016). Marbin regularly plays in clubs all over the US and in jam and jazz festivals around the world.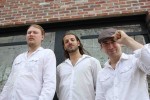 CONSIDER THE SOURCE
NYC trio Consider the Source defy easy description. If intergalactic beings of pure energy, after initiation into an order of whirling dervishes, built some kind of pan-dimensional booty-shaking engine, powered by psychedelics and abstract math, it'd probably just sound like a CTS tribute band. Drawing from progressive rock, fusion and jazz, with alien sounds soaked in Indian and Middle Eastern styles, CTS blends disparate parts into a striking, utterly original whole. Dubbed "Sci-Fi Middle Eastern Fusion", the band's music strikes a rare balance between cerebral and emotional, intellectual and primal. A relentless touring schedule has won the band a fervent following from California to Israel, with fans ranging from jam-band hippies and jazz cats to corpse-painted headbangers and prog geeks.
Formed in 2004, Consider the Source features Gabriel Marin on fretless double-neck guitar, bassist John Ferrara, and drummer/percussionist Jeff Mann. Called "the guiding light for his generation of six-stringers", Marin channels the mystical fury of McLaughlin and Coltrane into wailing melodies, kaleidoscopic soundscapes and boneshaking riffs. With a background in classical musics both Eurpoean and Indian, and an instinct for avant-jazz and destructive metal, Marin's hypnotic fusion of styles is ever unpredictable. Ferrara's propulsive, percussive attack, equally suited to simple grooves and impossible chords, can ground the music or launch it into space. His madcap gumbo of slap bass, Indian rhythms, earthy minimalism and complex tapping constantly pushes into strange new worlds, whilst still dropping thick booty-clap beats. Underneath them lies Mann's rolling thunder; dense rhythmic architecture built from pure swagger and bounce. Half double-bass prog-metal, half crackle-pop Buddy Rich swing, with African and Balkan swirls, Mann's muscular, freewheeling polyrhythms are the engine fuel for Consider's multiversal mischief. Even when not improvising, Consider's music is always a conversation, a roiling stew of dynamic interplay. Each member of Consider the Source alternately leads and follows, spars and assists; in any single song, alliances are made and broken, bargains struck and divorces finalized.
Touring from coast to coast, as well as Europe and the Middle East, has not only earned the band thousands of fans, but has allowed them to perform with a wide variety of well-known artists, including Victor Wooten, Wayne Krantz, King Crimson Projekt, Kris Myers (Umphrey's McGee), Wyclef Jean, Andy Statman, Matt Darriau (Paradox Trio), Grace Potter & The Nocturnals, Jacob Fred Jazz Odyssey, Dumpstaphunk, Keller Williams, George Porter, Jr., Jeff Sipe, Panzerballet (Germany), Eatliz (Israel), Freak Kitchen (Sweden), Morglbl (France), and many others. They have performed at numerous festivals and events, including Burning Man, the NYC Fretless Guitar Festival, Catskill Chill, The Big Up, Sun Seekers Ball (Canada), Aura Music & Arts Festival (Florida), Jazz Fest (New Orleans), Head For The Hills Festival & SXSW (Texas), Rootwire (Ohio), and the NYC Gypsy Festival. The band's latest release, "F**k It! We'll Do It Live – Volume I" (2012) is available at considerthesourcemusic.bandcamp.com.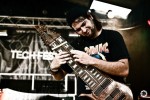 FELIX MARTIN
Felix Martin, an ambidextrous, Venezuelan-born guitarist who moved to America after winning a scholarship to attend the prestigious Berklee School of Music.
Felix is pushing music into new boundaries by mixing Metal with different styles such as Jazz, Progressive, World, Latin, Fusion, etc. Although his style is mostly called Progressive Metal, he is often cataloged as Jazz Metal, as he sometimes writes straight ahead Jazz mixed with Metal.
Felix uses his self-designed 14-string guitars, which are two regular guitars in one, standard guitar. Felix created a completely new way of playing the electric guitar by performing simultaneously with two of them as if was one guitar. This opens up a new and hidden world of the electric guitar. Felix pioneered this style of playing at the age of 13, and as of 2014, he remains the only one in the world who plays this way.
Felix and his band named under his name has shared the stage with acts such as Steve Vai, Mike Portnoy, Tesseract, Scale the Summit, Devin Townsend Project and have toured most of North America, South America and Europe.