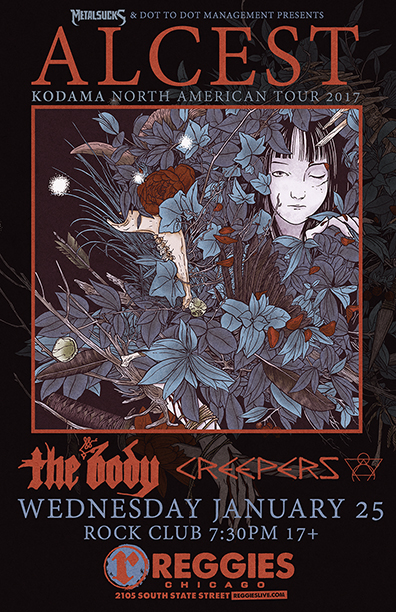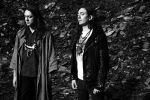 ALCEST
Kodama, the fifth album from blackgaze pioneers, Alcest, marks the French duo's ferocious return to the stylistic maximalism of its early albums while continuing the band's relentless pursuit for new sounds and fresh ideas.
Kodama, the Japanese word for 'tree spirit', also implies 'echo' (through yamabiko – the process of sounds reverberating across mountains, valleys and forests, which is often attributed to these spirits), and from the album's structure and dynamics to its cinematic sound, Kodama indeed 'echoes' Alcest's 2010 classic, Écailles De Lune. But this is no simple back-to-roots affair: across its six goliath tracks, Kodama possesses greater punch, rhythm and a more organic feel than ever before. While clearly influenced by Western bands like The Smashing Pumpkins, Tool, Dinosaur Jr., Grimes and The Cure, ultimately, Kodama reveals itself as Alcest's 'Japanese album', drawing substantial inspiration from Japanese art and culture.
Originally triggered by Hayao Miyazaki's anime film Princess Mononoke, Kodama picks up on the fate of its protagonist and, at its core, deals with the sensation of not belonging; of living in between worlds, be it city and nature or the physical and spiritual one. Duality is also crucial for the visual approach of the album, realized by French graphic designer duo Førtifem. Paying tribute to Japanese illustrators like Takato Yamamoto, the visuals portray contrasting elements like nature/urbanity, youth/death, femininity/animality and combine poetic elements with darker ones that were not present in Alcest's earlier works.
By giving the album a cultural, stylistic and compositional narrative, Neige and Winterhalter keep Kodama from just being the latest improvement on the Alcest sound and instead make the album a most rare and exciting thing: a vital, relevant record from a pioneer that not only upholds the band's trailblazing legacy but actually makes you want to see where they go next.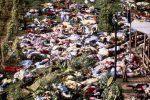 THE BODY
On No One Deserves Happiness, The Body's Chip King and Lee Buford set out to make "the grossest pop album of all time." The album themes of despair and isolation are delivered by the unlikely pairing of the Body's signature heaviness and 80s dance tracks. The Body can emote pain like no other band, and their ability to move between the often strict confines of the metal world and the electronic music sphere is on full display throughout No One Deserves Happiness, an album that eludes categorization. More then any of their genre-defying peers, The Body does it without softening their disparate influences towards a middle ground, but instead through a beautiful combining of extremes. No One Deserves Happiness is an album that defies definition and expectations, standing utterly alone.
Buford and King are outliers at their core, observing the world as if apart
from it. They strive for music without a category. They embody many
contrasts. They are open and playful as well as thoughtful and disciplined. Live, they deliver punishing volume and scale with their spare duo set up, expanding their sound through a complex set of effects on both guitar and drums. For records, they approach things entirely differently and expand their group in the studio to include Seth Manchester and Keith Souza from Machines with Magnets (their long-time studio), as well as Chrissy Wolpert of The Assembly of Light Choir. The list of instruments used on No One Deserves Happiness is an unexpected collection that includes 808 drum machine, a cello and a trombone. The band employs instruments in their unprocessed state for the simple beauty of the sound, and then in equal measure push them to their most extreme (for example, the sounds at the end of "The Fall and the Guilt" are created by a guitar and a cello). Because they create an entirely singular sound, The Body is in high demand for collaborations with artists across the musical spectrum, from The Bug to Full of Hell to The Haxan Cloak and beyond. They build albums that are as lush and dense as a rainforest and as unforgiving.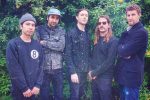 CREEPERS
Creepers is a band from the San Francisco Bay Area that formed in 2010. Originally consisting of Shiv Mehra (Deafheaven) on guitar and vocals and Daniel Tracy (Deafheaven) on drums, the duo performed around the Bay playing their own brand of surreal psychedelic rock. Eventually, they recruited guitarist Chris Natividad (Golden Drugs, Useless Eaters) and bassist Varun Mehra to complete the lineup. Their first LP "Lush" was released on All Black Recording Company in 2014.
In 2016, Andrew Oswald (Recorded Fell Voices, Ash Borer, Black Spiritual, +more) replaced Varun Mehra on bass and Ross Peacock (Mwahaha, Clipd Beaks) was added on synths and electronics. They are currently working on a release slated for 2017.
$40 VIP
includes a two song acoustic performance and meet & greet before doors.