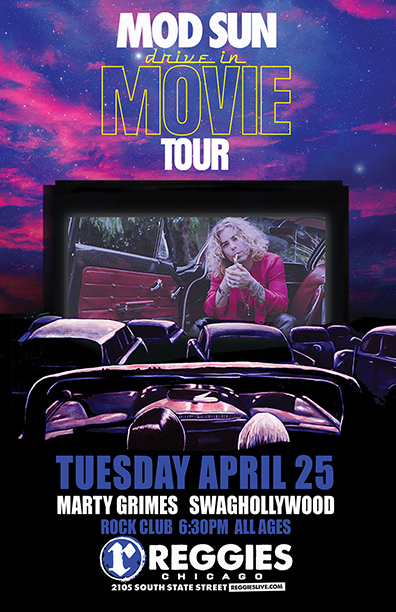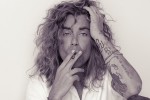 MOD SUN
It can be far too easy to get caught in negativity in today's world. We're surrounded by it in the news, the media and even entertainment. And that's what makes Mod Sun's music and message all the more refreshing.
"It's about empowerment. It's about saying it's okay to sit by yourself on a Friday night and make music. You'll never be lonely if you love the person you're alone with," says the rapper, whose name stands for "Movement On Dreams Stand Under None."
A Minnesota native, Mod grew up in a household that played everything from Bob Dylan to Prince, and that eclectic foundation has informed his musical journey. He started playing drums at age 13, and by 16, he began touring with a few bands, including the successful rock group Four Letter Lie.
But his heart told him to go after something else.
"I was in a state of comfort, touring and in a band, and I decided I wanted to totally change it up and do something I believed in," the 27-year-old remembers.
So he gave up that steady gig to pick up the mic. Mod wrote his first song at age 19, and hasn't looked back since. Over the last eight years, he has released six mixtapes and three EPs. He has collaborated with artists including Schoolboy Q, Nipsey Hussle and G-Eazy, and earned a spot as one of sixteen independent artists from around the world competing for the cover of Rolling Stone in 2011.
After his most recent release, 2012's Happy As Fuck, he again proved his artistic versatility, by momentarily shifting his writing focus in a new direction: His book, Did I Ever Wake Up?
"It's all about the fact of making your life a dream," he says of the inspirational work. "I was a stubborn kid. You can never learn if you're always right. It took all these things for me to become what I want to be."
Now, the focus is again squarely on the music. He's built plenty of momentum over the last year, thanks to videos for tracks like "My Hippy, "Free Love" and "Mushrooms." And now, Mod is getting ready to deliver his Friend Base — because he has no fans, only friends — his debut album, which is due at the top of 2015, through Rostrum Records.
The music has grown, but the underlying message remains.
"No matter the amount of negativity you're presented with, 5 minutes from now could be your best moment."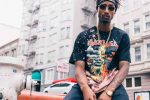 MARTY GRIMES
Marty Grimes should definitely be on your radar if you're even minutely in tune with the pulse of the music industry. A budding talent coming from Berkeley, CA and an evolving prominent artist in the Bay Area's rap scene. Influenced by his Northern California roots, Marty's music embodies the lifestyle, slang and strut that the area is known for and that bred him. In addition Marty has released several introspective records revealing the details of his journey and ascension. Marty has achieved many feats since the launch of his professional career including the release of two albums Co-Executive Produced by longtime friend, & producer Kevin "KDE" Beggs to bring "Through the Smoke" and "Nobody Said It Was Easy" 2014 & 2015 respectively.
Marty has been featured on music's premier online and print publications including, Billboard, Revolt TV, VIBE Magazine, The Daily Loud, Sway's Universe and many more. In addition to achieving over 20 million total plays on SoundCloud; Marty has become accustomed to touring the road with his childhood best friend G-Eazy over the past six years gaining indispensable experience over that time period. Marty Grimes is focused on further expounding upon his brand and making unique music for his fans and supporters.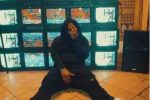 SWAGHOLLYWOOD