Breakers will be open at 8am!
Exclusive RSD releases! Live Music!
Free Donuts and Coffee in the morning! Free hot dogs and pop in the afternoon!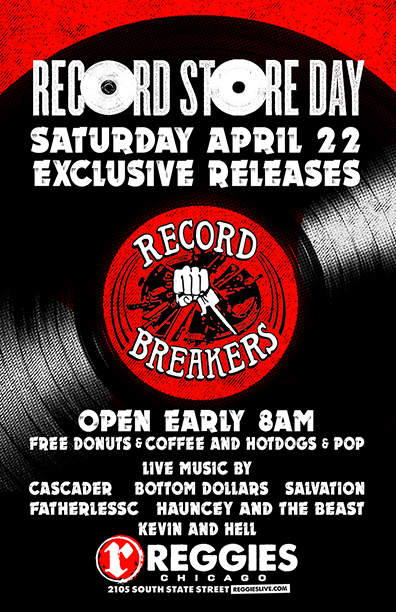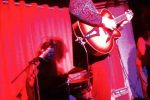 KEVIN AND HELL
Not just songs but an unschool of thought. Also a gateway to help rock aficionados behold the majesty of jazz.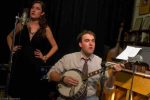 CHAUNCEY AND THE BEAST
Acoustic folk fun duo Chauncey and the Beast was born in the hot hot heat of the summer of 2008 in Oxford, MS. Chauncey and the Beast is: 1. Chauncey 2. The Beast 3. A little robot named Walter 4. Friends with the devil 5. Birdwatchers 6. Sexy insomniacs 7. On death row 8. Baby messiahs 9. Carpet drinkers.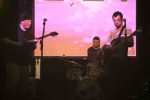 CASCADER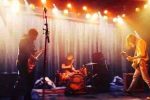 SALVATION
Salvation . We are A band of fools that make noise . Listen to the link . Come to the show . The end . Victor bass
Santiago drums jason guitar vox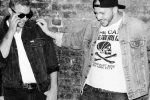 THE BOTTOM DOLLARS
"The Bottom Dollars channel The Clash's energy with an Americana twist." – Popdose
"It's having a flask tucked, at all times, inside the pocket of any coat that's ever been worn. It's keeping that flask healthily full with something that coats." – Sean Moeller, Daytrotter
Yeah, that's pretty close…The Bottom Dollars formed in the basement studios of Cameo Gallery in Brooklyn, NY in the spring of 2010 as a "punk soul project" by co-founders Brian "Cherch" Cherchiglia (vocals, guitar) and Evan "Buffalo" Berg (drums).
After bursting onto the scene with their breakthrough EP, "The Halcyon Days" in 2011, The Bottom Dollars made it their mission to become one of the most captivating bands in American rock and roll; winning over audiences and gaining accolades in NPR: All Things Considered, Daytrotter, Village Voice, Relix Magazine. No matter the publication, they were all in unanimous consent of The Bottom Dollars' explosive and notoriously unpredictable live performances.
And, with good reason. This loud, bizarre amalgamate of psychedelic rock, bowery-style punk and soul is something you can only get from the Dollars, only their way.
"Semi-professional sonic assassins." — CMJ
"This is a rock and roll band whose reverence for classics like The Clash and The Band made their concert an appealing fusion of garage and punk tropes playing off whiskey drenched southern rock licks." — Pancakes & Whiskey
"A 'can't miss live act!'" — No Pulp Music
Best of SXSW 2013, The Wild Honey Pie & NPR: All Songs Considered
Best Emerging Artist 2011 (Editor's Poll), The Deli Magazine
The Village Voice says: http://bit.ly/2hbtta8
Guitar World (\m/) says: http://bit.ly/2i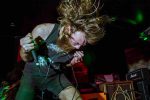 FATHERLESS