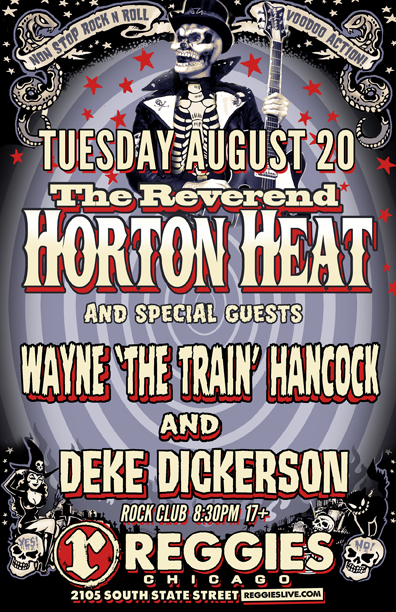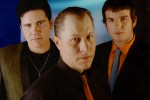 REVEREND HORTON HEAT
Undeniably, The Reverend Horton Heat, aka Jim Heath, is the biggest, baddest, grittiest, greasiest, greatest rocker that ever piled his hair up and pounded the drinks down. Without question, for all of his outlandish antics, blistering stage performances and legendary musical prowess, the one thing The Rev always gets asked about is the story behind his unusual and rather clerical moniker. "Well, there used to be this guy who ran this place in Deep Ellum, Texas who used to call me Horton- my last name is Heath," says The Rev. "Anyway, this guy hired me and right before the show he goes, 'Your stage name should be Reverend Horton Heat! Your music is like gospel' and I thought it was pretty ridiculous. So I'm up there playing and after the first few songs, people are saying, 'Yeah, Reverend!' What's really funny is that this guy gave up the bar business, and actually became a preacher! Now he comes to our shows and says, 'Jim, you really should drop this whole Reverend thing.'"
It's been an almost 20-year journey for Heath, whose country-flavored punkabilly and onstage antics have brought him and his band a strikingly diverse fan base and a devoted cult following, not to mention the respect of fellow musicians worldwide. Revival, the band's first release for Yep Roc Records, is a return to Heath's roots – musical and geographical.
The album was recorded at Last Beat Studio in the Deep Ellum area of Dallas, just a block from where The Rev played his first gig and next door to where the group currently rehearses. Along with eating a lot of world-class Mexican food and BBQ, the band recorded the album's 15 tracks with a minimum of overdubs, bells and whistles. With tour manager/engineer Dave Allen at the board, they wanted an album they could duplicate live.
"I got this lick called the 'hurricane,' and I call back on the hurricane on this album for the sake of keeping things really rockin," he says. (The "hurricane" is a trademark lick where The Rev plays lead and rhythm guitar simultaneously to give the trio its full live sound.) He's also got a top-secret lick he'll introduce on this disc. It's so top secret that he won't even divulge the name, but listen up for it! Lyrically, the album's themes run "from death to silliness," says The Rev, who lost his mother earlier this year. "I'd been going through so much stuff, losing my mom so quickly, new baby, touring, getting back and having to work," he says of making the album. Revival finds the Rev dealing with these issues and more: The track "Someone in Heaven" is written for his mother, while "Indigo Friends" deals with a friend's heroin addiction. But the album's themes aren't only dark and/or serious: "Calling in Twisted" is about calling in sick to work and "using the fake cough," "Rumble Strip" is a truck drivin song and "If it Ain't got Rhythm", "that's a really fun one to play," says the Rev "it is classic RHH. And "Party Mad" is pretty self-explanatory.
Reunited with legendary producer/engineer Ed Stasium, who mixed the album, Revival is a 40-plus minute slab of rockabilly, blues, R&B that shows an artist – and a band – in their prime. It's true that the Reverend Horton Heat have been called a great many things over the course of their storied career: Perpetual Carriers Of The Rockabilly Flame, Genre-Shattering Shit-Starters, Filthy Drunks, and The Most Electrifying Live Act In America (150 shows every year can't be wrong) among them.
"I think it's cool we've lasted this long," says The Rev. "People still come out to see us play after all these years and all the shows and tours. It's amazing. I mean, I get to sing songs about cars I love, drinking and chasing girls. Beats the hell out of the alternative."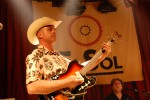 DEKE DICKERSON
(backed by JD McPherson's Rhythm section)
Deke Dickerson is one of America's musical treasures. As an entertainer and musician, he has toured the world and established himself as one of the foremost purveyors of roots music, headlining festivals from Las Vegas to Finland. As a writer and music historian, he is well known for his regular column in Guitar Player magazine and recently authored two enormous essay projects for Bear Family's 2007 Merle Haggard box sets. As an entrepreneur, Deke has partnered with Hallmark Guitars to produce the Deke Dickerson model guitar, as unique in its design as its namesake. As a behind-the-scenes mover and shaker, Deke has recorded songs that have been featured in a variety of movies, TV shows, and radio programs, from the Oscar-winning movie Sideways to HBO's documentary Dirty Driving: Thundercars of Indiana and the hugely popular XM satellite radio show Theme Time Radio Hour with Bob Dylan. For this last, Deke not only contributed background guitar music but was also interviewed and quoted by Bob Dylan.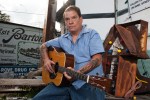 WAYNE "THE TRAIN" HANCOCK
Since his stunning debut, Thunderstorms and Neon Signs in 1995, Wayne "The Train" Hancock has been the undisputed king of Juke Joint Swing–that alchemist's dream of honky-tonk, western swing, blues, Texas rockabilly and big band. Always an anomaly among his country music peers, Wayne's uncompromising interpretation of the music he loves is in fact what defines him: steeped in traditional but never "retro;" bare bones but bone shaking; hardcore but with a swing. Like the comfortable crackle of a Wurlitzer 45 jukebox, Wayne is the embodiment of genuine, house rocking, hillbilly boogie. Wayne makes music fit for any road house anywhere. With his unmistakable voice, The Train's reckless honky-tonk can move the dead. If you see him live (and he is ALWAYS touring), you'll surely work up some sweat stains on that snazzy Rayon shirt you're wearing. If you buy his records, you'll be rolling up your carpets, spreading sawdust on the hardwood, and dancing until the downstairs neighbors are banging their brooms on the ceiling. Call him a throwback if you want, Wayne just wants to ENTERTAIN you, and what's wrong with that? Wayne's disdain for the slick swill that passes for real deal country is well known. Like he's fond of saying: "Man, I'm like a stab wound in the fabric of country music in Nashville. See that bloodstain slowly spreading? That's me." Little known fact: Wayne is the only Bloodshot artist to have had their CD taken aboard a space shuttle flight. "A rare breed of traditionalist, one who imbues his retro obsessions with such high energy and passions that his songs never feel like the museum pieces he's trying desperately to preserve." —AllMusic.com
$80 VIP Tickets
includes reserved seat, drink package, early entry, poster, and meet and greet.