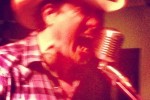 SEAN K. PRESTON & THE LOADED PISTOLS
Sean K. Preston doesn't get gussied up for the show…he wears his cowboy hat, dirty jeans and shitkicker boots everyday. If it sounds like he sings about hard luck, lost love, long journeys, dark secrets, damnation and redemption like he's lived through them…it's because he damn well has.
He's quick with the wise cracks between songs while gulping down whiskey and bantering with the audience…but when the next song starts you better believe he'll be sweating blood to deliver the best performance. It's Blues- Punk -Country, Rock'n'Roll….Amen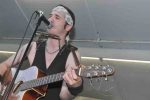 DANIEL LEWIS
Acoustic Rock/Country/Blues/Punk and More in the troubadour style of Tom Waits and Leonard Cohen, with a swift kick in the ass a la Johnny Cash, Mojo Nixon, or even Jimmie Rodgers.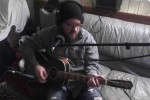 BEAR WITH HAWK FIST
BEAR WITH HAWK FIST is a guitarist/singer songwriter from chicago.