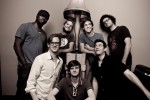 SNARKY PUPPY
Snarky Puppy has gone from an underground secret to one of the most internationally respected names in instrumental music. They putt on a live show unparalleled in energy, virtuosity, and musicianship. They seamlessly fuse a deep knowledge and respect for musical tradition with sonic and conceptual innovation in a way that is able to reach the most critica l- or most carefree – audience. It is, in its physical makeup, a group of musicians from two different cultures and traditions – jazz and rock kids from white America, and gospel/R&B kids from black America.
This convergence, which occurred while the band was in its adolescence at the University of North Texas, has naturally established a series of combinations and a system of balance that instantly draws listeners to the music- raw funk and sensitive dynamics, relentless pocket and lyrical melodicism, lush harmony and soulful simplicity, and most importantly, a delicate mixture of composition and improvisation.
THE ANDREAS KAPSALIS & GORAN IVANOVIC GUITAR DUO
A guitar duo that not only celebrate the tradition of guitar performance of the old and the current rapport but also as composers they are a part of a movement in the states who's aim is to build the new repertoire for the next generation of guitar players.
Steel string ten finger tapping guitar prodigy Andreas Kapsalis, and nylon string classical guitarist Goran Ivanovic have fused their musical roots with modern, classical, world, jazz and beyond in this experimental duo. As they continue to create "buzz" throughout global music circles, these masterful musicians are also creating genres & musical styles that have yet to be named.
VIP Tickets
$30 Includes Red Chair Seating, Show Poster, and Early Entry to the Sound Check.