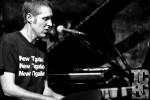 NICOLAY
Grammy-nominated music producer/performer Nicolay was born and raised in The Netherlands (Europe). He played various instruments in various bands and got a formal music education before focusing on the production side of the music making process.
Around 2002, Nicolay met rapper/singer-songwriter Phonte (of Little Brother) on the Okayplayer message boards. They struck up a partnership under the name The Foreign Exchange and released their critically acclaimed debut album Connected, which was completed solely through the use of the internet, in 2004. The success of Connected enabled Nicolay to move to the United States and further pursue his career in music. The Foreign Exchange's sophomore album, Leave It All Behind (2008), was even more successful, culminating in the Grammy nomination for the album's first single, "Daykeeper".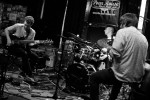 THE HOT AT NIGHTS
Says one Carolina newbie to one Carolina native, "Dang! I knew it would be hot in the Summer down here, but I had no idea that it would get even hotter at night!!" Meteorologically speaking, there is a scientific explanation for this phenomenon. But as far as the Raleigh-based exploratory jazz trio called The Hot at Nights, there is no explanation for them. 8-string guitar virtuoso Chris Boerner leads the group, with Matt Douglas on sax/woodwinds and Nick Baglio on drums. The group melted together in Boerner's studio over the many sweltering evenings of Summer, 2010. Though largely improvisational, the group's compositions pull from contemporary songwriters, classic funk, pop, rock, and of course the electric avant garde stylings that have spanned the last 30 years of contemporary jazz. Complex rhythms can quickly transform into head-bobbing groove fare. Simple melodies coaxed by all three players can explode into cacophonous meteor showers at the drop of a dime. Their limits go as high as the stratosphere and deep into the Earth's mantle. Both of which keep them sweating… even after the sun goes down.