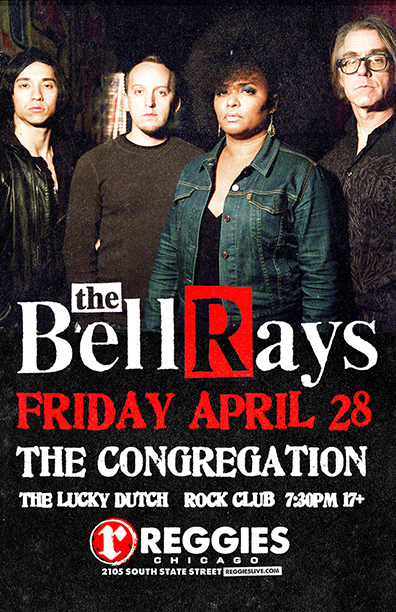 THE BELLRAYS
If music is food for the soul, then The BellRays are Thanksgiving. At a BellRays show they know how to cook.
Lisa Kekaula and Bob Vennum dish up plate after plate, hot and ready to eat.
Each song gives you flavors that both taste good going down and make you wonder what's in it. Yes, the ingredients are important, blues, punk, rock, R&B…But even the best ingredients, used too much or too little, can ruin the experience and tire out the senses.
The BellRays have been perfecting this recipe for years now and may not win awards but if you are in earshot no one leaves hungry.
The BellRays give you not only what you crave, but what you need in every bite.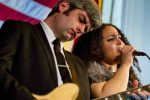 THE CONGREGATION
Classic soul meets rock and roll in this dynamic eight-piece collective from Chicago. The Congregation features Gina Bloom, a singer whose raw and powerful vocals are underscored by Charlie Wayne's dynamic guitar riffs, the band's rock and soul rhythms (Dan Wendt on drums, Chuck Sansone on keys and Steve Schuster on bass) and the lively call and response of a three-piece horn section (Justin Amolsch on trumpet, Erik Eiseman on sax and Nick Nottoli on trombone). When it comes to the songwriting, you won't find any sugarcoated love songs here–you'll get a little bit of longing and a whole lot of wronging.
While the release of Right Now Everything marked the band's full-length album debut, The Congregation has been steadily gaining steam since the release of its seven-song EP, Not for Sleepin', in late 2010. The band was named by the Chicago Tribune as one of "11 Bands to Watch in 2011", and was recently featured in Paste Magazine as one of "10 Illinois Bands You Should Listen to Now". The Congregation's stop-and-take-notice sound earned the group the opportunity to share a triple stadium-bill with Grammy-winning band Wilco and critically acclaimed multi-instrumentalist Andrew Bird as well as another all-star ballpark lineup with the Flaming Lips and Garbage in the summer of 2012. In 2013, The Congregation appeared as an official showcasing act at the SXSW Music Festival in Austin, TX and appeared on an episode of Through The Wormhole with Morgan Freeman.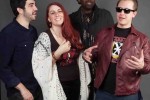 THE LUCKY DUTCH
The Lucky Dutch is an American roots-rock band from Illinois, formed in 2008 in Chicago by guitarist Nathan Graham and singer Claire Corriveau. They began their career as an indie band, performing extensively around Chicago's bar and festival scene. In 2014, they released their first full length record, Bury the Night.
In the past two years, they have toured extensively and performed with Marc Broussard, Jackson Mudd and Marc Ford of the Black Crowes. 
 Nathan Graham has been performing as a guitarist on the Chicago blues scene since he was 15 years old. Over the years, he has worked with musicians such as Buddy Guy, BB King, and Koko Taylor and has toured extensively with Carl Weatherby.
Claire Corriveau has worked consistently as a performing musician since 2008, working with a wide variety of bands. She released a solo record in 2014, titled secrets i can't keep.  
David Padula has been playing bass since 2006, working in a jazz trio through college before moving to Chicago in 2012. 
Ben Dacoba started playing drums at age 15 in Virginia. He draws inspiration from classic rock bands from the 60s and 70s and works as a touring drummer all around the country.