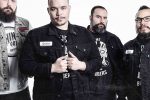 THE DELTA BOMBERS
The Delta Bombers have smashed stages all over the world since 2008 with no plans of stopping. Started by four teenagers in Las Vegas, they're driven by a hybrid of 50's rock and roll fused with blues and the most exciting elements of rockabilly. The band's haunting but powerful voice Chris Moinichen constantly keeps the songs fresh. Andrew Himmler on guitar often drives the songs with guitar singes while Greg Garcia on Stand-up Bass and Kirk Highberger on Drums sway the dynamic of the band up and down. The Delta Bombers continue to take on month long tours of new and distant places such as Russia and the Czech Republic supported by four studio albums including their newest self-titled album "The Delta Bombers" (2014). The Bombers have played some of the most renowned Rockabilly and Psychobilly festivals including Viva Las Vegas, Psychobilly Meeting (Spain), Rockalavera (Mexico), Sjock (Belgium) and High Rockabilly (Spain). What started as a teenage dream has now come to fruition as a worldwide rock and roll expedition, one that should be witnessed by anyone who considers themselves a fan of music! The Delta Bombers are playing at a venue near you!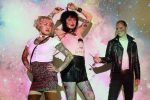 SUPER SONIC SPACE REBELS
"This sound is just what the doctor ordered. Totally different flow than anything out there. When I first started on it I thought…damn, they went Rockabilly. By the time it ended I was pissing on the stall in CBGB". -Charles Browning (Club Owner, Concert Promoter).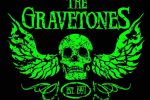 THE GRAVETONES
Scary Larry started the Gravetones in 1997, and it has been a road to conquering the world ever since. In the beginning, The Gravetones set out to create music in the vein of The Cramps. As time went on, The Gravetones have grown and fermented like a fine wine (or a jar of bad Hooch, depending who you ask, or your personal pleasure). No matter how you look at it, The Gravetones prevail at performing well crafted tunes without compromise that can not be matched.