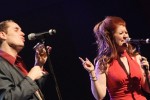 THE LAMPSHADES
Kate Flannery (Meredith from The Office) and partner Scot Robinson (Anchorman) are The Lampshades, the funniest fake lounge act in Hollywood. Who else would sing Mandy and Brandy at the same time?
After 10 years of performing live in Hollywood, they are becoming the thing they are making fun of. Thanks, Father Time. Like a fine wine, baby. They are the Dan Band's favorite opening act.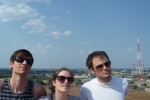 SHOCK T'S
The best part of a rock show meets the best part of a comedy show: The Shock T's are a three-person comedy band bursting with high-energy songs. With strong vocals and clever lyrics, audiences are always drawn in by the power of three voices and one guitar.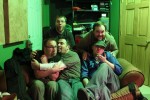 THE WIDGETS
What started as two drunk college mates diddling on acoustic guitars, making up songs about friends and faculty has transformed into the current entity known as The Widgets. The Widgets are a new force that needs some reckoning. They are already responsible for a Holy union as well as the destruction of many hearts and ear drums. Dually based out of Chicago and St. Louis, The Widgets are ready to make the midwest's stomach ache from laughter. And while they're doubled over, tears streaming down their face from laughing too hard, that's when we eat their soul.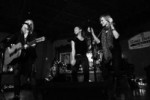 THE BIG DITTIES
The Big Ditties are professional and stuff. Their mission statement is "Let's not take ourselves too seriously." This mission is achieved by the following goals:
1. hang out
2. drink
3. smoke
4. play some tunes
5. talk shit
NOWAY JOSE
Not much is known about this comic. He travels the country making audiences of all colors and backgrounds laugh about what it's like to be on the wrong side of the law since birth. Not much can be found online about NoWay Jose due to his risk of getting caught by the authorities.  All that is known is that after he cracks a few jokes about his life and upbringing, he finishes his set with a 5 minute incredible impersonation of the late great Charlie Chaplin, then immediately leaves the venue. Come catch the only true illegal of comedy: NoWay Jose