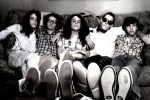 THE WEEKS
The Weeks are an indie rock band from Mississippi whose cathartic output of songs stems from the same root: their geography and disadvantaged youth. Beginning In March of 2006, The Weeks, ages ranging between 14 and 16 years, formed as a 5-piece band. In 2008 they signed with a local MS-based indie label Esperanza Plantation, releasing their first album, Comeback Cadillac followed with Rumspringa EP in 2009. The band ultimately became a tight 4 piece band with twins Cyle (vox) and Cain Barnes (drums), Sam Williams (Guitar) and Damien Bone (bass). Perhaps best described as "Delta Rats," The Weeks have truth and soul in everything they do, and in the midst of their thrashing, thoughtful, manic pop thrills, they never lose sight of the songs. Cyle, as the band's lyricist, writes about what he knows and is often autobiographical. Their music, arranged by Sam Williams, conveys the attitude and emotion that the band utilizes to punctuate their experiences, frame the impact of their surroundings and pointedly references their life in the South. This is equally true in their live show where attitude and amplitude are nuanced and ever present.
The Weeks recently signed to the KOL's Serpents & Snakes imprint where they will release their first track on July 3rd, entitled "The House We Grew Up In," to be followed by the anticipated EP, Gutter Gaunt Gangster on September 25th. A full-length album is scheduled for spring of 2013.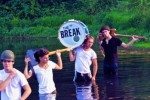 THE BREAK
The Break is your new favorite band. Homegrown real sound straight out of Chicago. A true to form great rock band. The next hook in your head. The Break has played every major venue in Chicago to a constantly growing fan base and despite their youth, wants to buy you a beer and sing you a song.
JUNIOR ASTRONOMERS
Junior Astronomers. A consistency in disorder breathes into existence a quintet bound to the loud and impulsive. Gritty and jangled on some occasions, then mangled and diverting in others. The only thing planned is the outburst itself. A hypnotic trance is created through guitars painted heavy and a rhythm section bound for movement, but beneath the distortions and muddled screams Junior Astronomers seek to achieve more than just reactions from onlookers; the band itself tries to document the human experience. "Music needs to sound like human beings, like it's alive," frontman Terrence Richard declares. "A lot of people want to make sad shit all the time–that's one part of life but it's not all life. There's fun, there's happiness, there's sadness." On stage the mess of humanity is embraced through a livid live show—devoid of controlled manipulation each night's set stumbles onto new devices. Passion bleeds over lofty construction making sure the songs themselves are the frame. The rest is unhinged and never over thought. "If something is forced it feels like a job," the band echoes. Continually on the move since forming in 2007, with only two EPs to their name, Junior Astronomers have toured and shared stages with the likes of Harvard, The Weeks, Dignan, Color Revolt, Des Ark, and Polvo. Poised to not take a break in the near future the North Carolina natives bring with them a promise, there is an elemental energy that lies in-between art and craft.