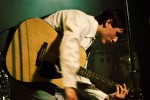 THIS MUST BE THE BAND
This Must be the Band is a Talking Heads Tribute Band; we only play Talking Heads music, and, if possible, 3 to 4 hours at a time.
Since forming in May 2007, TMBTB has been Burning Down The House throughout Chicago and the entire midwest. With a rapidly expanding repertoire from the Talking Heads' catalog of countless hits, TMBTB highlights the best of the Talking Heads, equipped with our very own Bernie Worrell, Adrian Belew, Lynn Mabry, and Ednah Holt.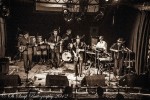 GENOME
Genome deftly combines organic improvisation and audience interaction with mind bending electronic sound manipulation, adding an entirely new dimension to the labyrinth of melody, harmony and rhythm. The music of Genome acts as a gateway to a new freedom of mind and spirit through the ritual of music, dance, and Dionysian celebration. The Genome project is not about the members of the band alone, but rather, the love and community of its supporters and friends. The band makes the music, the people dance to the music, and everyone gets lifted together!