Show and Pig Roast $20. Just the show $12. Pig will be available at 5:00pm.
KNUCKLE DEEP will be performing a HANK III Tribute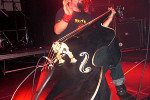 THREE BAD JACKS
With the arrival of Three Bad Jack's new CD Pictures & Memories From Home, the band forcefully asserts themselves as true, renegade rock & roll prophets. From the propulsive, high octane opening track "I've Been Around" to the brooding closer "Pricks & Thorns" the album never falters, charting fresh new territory with ebullient authority. Their hard hitting aggression, anchored by a throbbing gutbucket bottom end and topped off with bandleader Elvis Suissa's passionate vocals, unfailingly pulls the listener in. High impact, soul deep, thoroughly original, this is uncut rock & roll expression that goes upside the head with stunning force. Such a dynamic achievement is the result of a hard earned perspective. One of Los Angeles' hardest working bands–and biggest club draws–Three Bad Jacks have been pounding it out, non-stop, since the late 20th century. Typically averaging over 250 shows a year, selling out rooms from Hollywood to New York City and headlining on numerous European festivals, the groups' dedication and rebel spirit have long since been honed to perfection. It rings true in every note that singer-guitarist Suissa, bassist Ruben Ibarra and drummer Adam Jones strike, each of whom display a mastery and understanding of the underground American big beat heritage. Variously labeled in the media as both rockabilly and psychobilly, with Pictures & Memories From Home the band has delivered a genuine rock & roll statement, one that not only expands on previous releases Made of Stone and Crazy in the Head but also rates as an important step forward in the artistic exploration of an increasingly bastardized art form. "I'm really excited about this record." Suissa said. "It's a straight-up rock & roll record that draws from that transitional period of the late '50s-early 60s, but it's also as modern and original sounding as we could make it." The album echoes with trace influences from garage primitivism to stomping Deep Southern rockabilly, yet all of it is filtered through the bands own unique prism, resulting in a sound that "original" scarcely begins to cover. Produced by Suissa, mixed by studio veteran Dave Schiffman (Nine Inch Nails, System of a Down), mastered by Howie Weinberg (Clash, Iggy, Ramones) and featuring key contributions, on keyboards and strings, from Rami Jaffe (Wallflowers, Foo Fighters), the disc has a gloriously full, unruly tone, yet shifts to tender balladry with effortless, fully realized ease (striking examples here are the bluesy "Beautiful" and the heartfelt family-themed "Noah & Jacob's Song"). While use of the word "mature" may seem the contradictory to Three Bad Jacks international reputation as rock & roll wild-men, their mix of the sensitive and savage is impressive, and the ability to navigate such a broad musical spectrum is even more so. Again, it's all about experience, and with records sales topping 150,000 to date, numerous songs placed on television and video game soundtracks and having long since graduated from selling out hometown venues like the Troubadour, House of Blues, Galaxy Theater, Fonda-Music Box and Key Club to sharing bills and touring with the likes of Joe Strummer, Jerry Lee Lewis, Dwight Yoakam, Social Distortion and Bouncing Souls, Three Bad Jacks are nothing less than a force of nature. All of that wild bandstand action–and after-hours philosophy–brings them an almost supernatural insight that has critically enhanced the band's indisputable natural talent. Just one listen to Pictures & Memories From Home will drive that fact home–loud and clear.
THE DYES
Chicago-based trio, The Dyes, infuse 60s inspired garage-rock with infectious 50s rockabilly undertones to create a punchy and melodic, yet raw rock n' roll sound. By digging up the roots of influences such as: Hank Williams, The Cramps, Wanda Jackson, and The Flat Duo Jets, this female-fronted trio is sure to catch the ears of a wide-spectrum of music lovers as they toss hints of punk, surf, blues, and country into the mix, and stir it up with their own unique twist.
KNUCKLE DEEP
(Hank III Tribute)
With their whiskey-driven outlaw country/western sound, Knuckle Deep has been shoving twang down the ear-holes of Michiana listeners since January 2008. The band began when three coworkers at Point Blank Tattoo & Body Piercing in South Bend, IN started jamming in the basement of the shop. They were told they should play out, and decided to start up a band. The band consisted of singer Gabe Himes, bluesy guitarist Jason Woolley, metal drummer Joel Frechette, and bassist Todd Sirbek. After playing around the South Bend area for almost a year, Todd decided to go his separate way and Knuckle Deep picked up bassist Tai Barger; bringing with him some of his punk rock roots. Joel put away his brushes and dusted off his double bass pedal, both guitarists switched to electric hollow bodies, and so began the transformation of Knuckle Deep from a more traditional country/western tone into the dirty, outlaw, punk-country sound they have today. Knuckle Deep has played in the South Bend area at many local bars, ABATE Region 1 motorcycle events, as well as multiple charity benefits. They have played alongside fellow favorite local bands such as: The Go Devil 4, Red Hot Voodoo, The MudFlap Revival, and Little Frank & The Premiers; as well as national acts: The Dwarves, S.S. WEB, and the Goddamn Gallows. The band gets its influences from artists like: George Jones, Murder By Death, Reverend Horton Heat, David Allan Coe, Willie Nelson, Waylon Jennings, The .357 String Band, Those Poor Bastards, Johnny Cash, all three Hank Williams', along with many more. They have played covers of many of these artists, but the majority of Knuckle Deep's songs are Hank III covers since they enjoy giving his mix of outlaw country and metal their own unique twist. Knuckle Deep has also played covers of other groups such as: Slim Cessna's Auto Club, Social Distortion, Merle Haggard, and Old Crow Medicine Show, mixing these covers into their set list alongside original crowd favorites like "Trailer Park Living" and "Loco Gringo". If you're looking for a band that is fun to listen to, watch, raise hell with, and drink a lot of whiskey to, Knuckle Deep is for you.