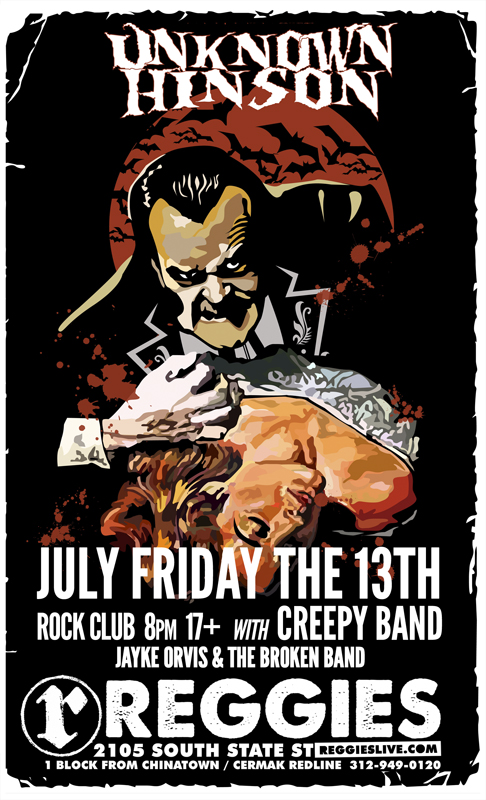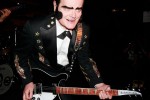 UNKNOWN HINSON
Looking somewhat like Dracula's nasty little brother who spent some hard years drinking and working as a carnival barker for a second-rate freak show, Unknown Hinson translates that vibe to his style of country and western-tinged psychobilly. The band is now touring nationwide, wowing audiences with outrageous and campy, white-trash persona and freewheeling, sleazy tone.
Hinson's most recent CD release, "Live and Undead", melds weepy twang, searing guitar riffs and lyrics that speak of love-gone-bad. Recorded at a sold-out show, an enthusiastic honky tonk crowd sings along with the King on every song.Raucous, theatrical and over-the-top, Unknown Hinson isn't just for the trailer park set anymore!
Unknown is gaining notoriety in the 18-34 demographic as the voice of lead character "Early Cuyler" in the popular show from Cartoon Network – "The Squidbillies". The first four seasons were so well-received that an immediate green light was given to future seasons.
Unknown Hinson is a winner in Independent Music Awards for his entry alternative Country track "Torture Town" from the album "Target Practice". http://www.musiciansatlas.com Unknown Hinson is a featured artist for Reverend Guitars, representing them in many Guitar Player Magazine features. A signature Unknown Hinson guitar is currently part of Reverend's celebrity instrument lineup. http://www.reverendguitars.com Rockabilly Magazine named Unknown Hinson as their "Find of the Year" http:// www.rockabillymagazine.com Live interviews with Unknown Hinson along with his music are broadcast nationally on XM Radio's National Lampoon channel. (XM 154 along with FM radio partners). http://www.nationallampoonradio.com/
Sirius XM – Outlaw Radio has Hinson's tunes in regular rotation. He's toured with Hank3, Rev. Horton Heat, the Boxmasters and Willie Nelson.Appearances on Jimmy Kimmel Live and other syndicated programming round out the list.
Hinson seems to collect quite a few celebrity fans. Billy Bob Thornton names Unknown as "one of my favorite songwriters and a genius picker". Matt Groening (creator of The Simpsons) labels Unknown as a "guitar maniac (and funny as hell to boot!)" Hank3 has Unknown's face tattooed on his bicep! Unknown was asked to join The Rolling Stones for sound check at their last show in Charlotte, NC. You must witness the encounter with Ed King (Lynyrd Skynyrd) in Nashville (http://www.youtube.com/watch?v=sbFx0STLKqQ). You'll find Unknown Hinson's music everywhere from Snoop Dogg's movie "LA Spectacular" to the newest version of the action-adventure open world video game "Saints Row 3".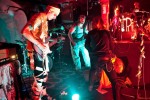 CREEPY BAND
Creepy Band …. A pack of demonic wolves, slaves to the curse of the cloak, were called forth on hallows eve to reek havoc and inflict upon others their pain of satans wrath… And so Creepy Band was born on the Devils night.. The combination of guitar, bass, drums, church organ, and screaming vocals wove together in a dissonant harmony, loud yet maintaining a subtle eeriness not to be forgotten. They quickly realized that the horror must be continued and are now doomed to haunt Chicago venues forever with their distinct new genre of Creepy Rock n Roll.. Since that fateful day, Creepy Band has been working ever since. These slaves to the cloak have been playing shows, recording, and spreading the gospel in every back alley they find… Looming in the darkness of night, they have begun spreading the curse of the cloak and soon no human alive will be able to turn away…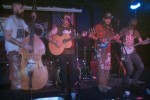 JAYKE ORVIS AND THE BROKEN BAND
A founding member of The .357 String Band and current member of the Goddamn Gallows, Jayke Orvis is ahead of his time even though he plays timeless music. The songs on his solo effort "It's All Been Said" are articles of the heart, exposing Orvis as a fragile, troubled soul. His depictions of love are raw and blue, the pages of his life littered throughout this album.