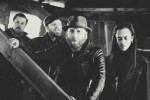 CURIO
Curio is a hell-raisin' and soul-shakin' rock n' roll band from Chicago, IL. Their music is steeped in southern gothic lore by way of the Midwest. Heavily influenced by the growl of Chicago blues, the low-down and dirty swamp rock of Louisiana and the twang of Tennessee country, Curio conjures a sound that has as many influences as there are miles on I-55 from The Windy City to The Big Easy. Chris Pluska and his band of wayward gamblers have been playing to crowds at juke joints, dives and clubs since 2009. Curio's live show has the fervent energy of a backwoods revival and the no-holds-barred attitude of a bar brawl. Their records are love letters to the bastards, brawlers, vagabonds, and believers who've shaped American folklore for better or for worse. Curio's tales have been described as 'Midwest murder ballads' that depict the timeless narrative of wrong-doing and temptation. Among their supporters from coast to coast can be counted Paducah, Kentucky's own J.D. Wilkes of Legendary Shack Shakers/Dirt Daubers fame who worked with the band on 2014's "Twisted Roots" album.
Chicago has historically been home to some of the most notorious cheats as well as tough-as-nails workin' folk and Curio walks the line between the rogue waltz of Prohibition-era bootleggers and the brute tenacity of the old Union Stock Yards butchers. Like their name implies, Curio is a collection of oddities whose sound has been weathered over the years.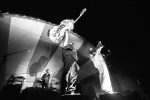 THE KRANK DADDIES
Here are the THE WORLD FAMOUS KRANK DADDIES, a Chicago based band always ready and willing to RIP IT UP!! After thousands of shows people have labeled The KrankDaddies music as Raw Rippin Rock n Roll. The KRANK DADDIES deliver a high impact live performance which always leaves the audience screaming for more. Fronted by Chops McClintock, a greasy gritty rock and roll legend, THE KRANK DADDIES rip through their live sets with a "Johnny Cash went to Hell and punched the devil in his balls" vibe. HiTops Farrelli hits the stage with his upright bass pounding out the rhythm like a Brooklyn Brawler. The Krank Daddies have toured the continental USA extensively and have shared the bill with some of the music industry's most renowned rock artists such as Motorhead, The Reverend Horton Heat, Rob Zombie, Social Distortion and more. THE KRANK DADDIES Have independently released two albums and are currently securing a world renowned producer for their 3rd release. This band has received rave reviews and is on the cusp of conquering the world!