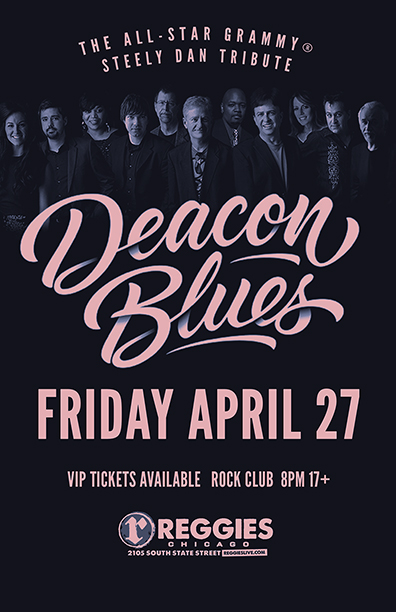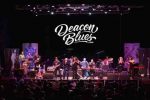 DEACON BLUES
Deacon Blues
was born in the twelfth year of the 21st century. Eleven stellar musicians, composers and educators based in Chicago, they share a unique passion for the Becker/Fagen repository, better known to the world as
Steely Dan
.
The genesis of Deacon Blues began when
Steven Kikoen
,
Jon Hey
, and
Cash Michaels
formed an original jazz/rock collective known as
Bebop Daddys
. The Daddys also featured the renowned rhythm section of
Tom Mendel
(bass–Hamilton) and
Tom Hipskind
(drums–Hamilton). Considered a Daddys fan,
Donald Fagen
can be seen in many a YouTube video sporting his Bebop Daddys "Tee."
Steve, Jon and Cash formed a bond within the Daddys which has followed them into Deacon Blues. Under Steve's leadership, and with the addition of newest "Deacon"
Thomas Linsk
, the group reads as a "who's who" of world-class musicians.
Chicago luminaries a
nd
Grammy® winners
such as
Howard Levy
(
Kenny Loggins, Paul Simon, Béla Fleck
),
Paul Wertico
(
Pat Metheny, Wertico, Cain, & Gray
);
Wally Hustin
(
Phoebe Snow, Dave Mason, Mark Stern, David Benoit
),
Chuck Webb
(
Aretha Franklin, Ramsey Lewis, & Al Di Meola
);
Sugar Blue
(
The Rolling Stones
);
Billy Branch
(
The Sons of Blues
);
Khari Parker
(
George Benson, Destiny's Child
);
Richard Patterson
(
Miles Davis, Boz Skaggs
), and
Bob Lizik
(
The Beach Boys; Brian Wilson
) have been featured as special guests with the band. Recently, original Dan session musician and legendary drummer
Bernard "Pretty" Purdie
appeared with Deacon Blues at one of their sold-out Arcada Theatre shows. The band also plans on featuring famed bassist and producer
Steve Rodby
(
Pat Metheny, The Impossible Gentlemen
) and prolific drum legend
Peter Erskine
(
Weather Report, Jaco Pastorius
) at future shows as well.
This stunning collective is essentially the personification of what The Dan did on record. Steely Dan is well known for attracting only the top studio musicians in the world for their albums. The Deacons are doing what The Dan did on record – but they're doing it live on stage. Speaking of
"The Deacons"
– that is actually the moniker of Deacon Blues' alter ego – their original band. With support from legendary Chicago FM radio station personalities such as
Bob Stroud
(
WDRV–The Drive
),
Richard Milne
&
Terri Hemmert
(
WXRT–Chicago's Finest Rock
) and
Scott Mackay
(
WERV–The River
) as well as
WGN Television
, The Deacons will be debuting their first album of original music, in a similar musical landscape as 'The Dan,' in 2017.
Deacon Blues has structured their live repertoire to encompass a wider range of the Dan's prolific material – including rarities as well as repertoire from the Dan's 1991 reunion prototype —
The New York Rock & Soul Revue
. Deacon Blues has consistently played to sold-out audiences, and has appeared on regional and national television. As the song goes . .
."Close your eyes, and you'll be there."
In the words of legendary Chicago FM Radio personality Bob Stroud,
"If you are a Dan fan, you owe it to yourself to see Deacon Blues — they've got all the right musicians with all the right chops — they are an incredible tribute to the music of Steely Dan!"
In the words of 'another' defining band . . .
"A splendid time is guaranteed for all!"
$30 Red Chair
seat in balcony above bar across from stage
$35 Front Rows Section
includes seat in front three rows closest to stage.