Coming from out of town?
Ride our bus shuttle from Chicago South Loop Hotel on the hour every hour to Reggies and back, starting at 11AM. 
Reserve your room at Chicago South Loop Hotel conveniently located just blocks away. Click for a special room rate.
2pm Doors for Both Rooms (Saturday)

Saturday:
Music Joint-
2:30pm-3:15pm: Riddle House
3:45pm-4:30pm: Zip Tang
5pm-6pm: Mano
6:30pm-7:50pm: The Mercury Tree
8:20pm-9:40pm: JOLLY
10:10pm-11:40pm: Cheer Accident

Rock Club-
3pm-4:20pm: Thank You Scientist 
4:50pm-6:20pm: Presto Ballet
6:50pm-8:20pm: Dream the Electric Sleep
8:50pm-10:30pm: Bigelf
11pm-1am: Spock's Beard

Sunday:
Music Joint-
3:30pm-4:30pm: Pavlov
5pm-6pm: Sonus Umbra
6:30pm-7:40pm: Tiles
8:10pm-9:30pm: Adam Holzman
10pm-11:30pm: Burnt Belief

Rock Club-
2:30pm-3:30pm: Hedgehog and the Fox
4pm-5pm: Wertico, Cain & Gray
5:30pm-6:30pm: District 97
7pm-8:10pm: Scale the Summit
8:40pm-9:50pm: Trey Gunn/TU
10:20pm-12:20pm: Stick Men
Schedule for the VIP Meet and Greet ticket holders:
Saturday:
Thank You Scientist-(2pm-2:20pm)
The Mercury Tree-(5:30pm-5:50pm)
Dream the Electric Sleep-(5:50pm-6:10pm)
Presto Ballet-(7pm-7:20pm)
JOLLY-(7:20pm-7:40pm)
Cheer Accident-(8:30pm-8:50pm)
Spock's Beard-(9pm-9:20pm)
Bigelf-(10:45pm-11:05pm)
Sunday:
Wertico, Cain & Gray-(3pm-3:20pm)
Sonus Umbra-(4pm-4:20pm)
District 97-(4:30pm-4:50pm)
Tiles-(5:30pm-5:50pm)
Scale the Summit-(6pm-6:20pm)
Trey Gunn-(6:40pm-7pm)
Adam Holzman-(7:10pm-7:30pm)
Burnt Belief-(9pm-9:20pm)
Stick Men-(9:20pm-9:40pm)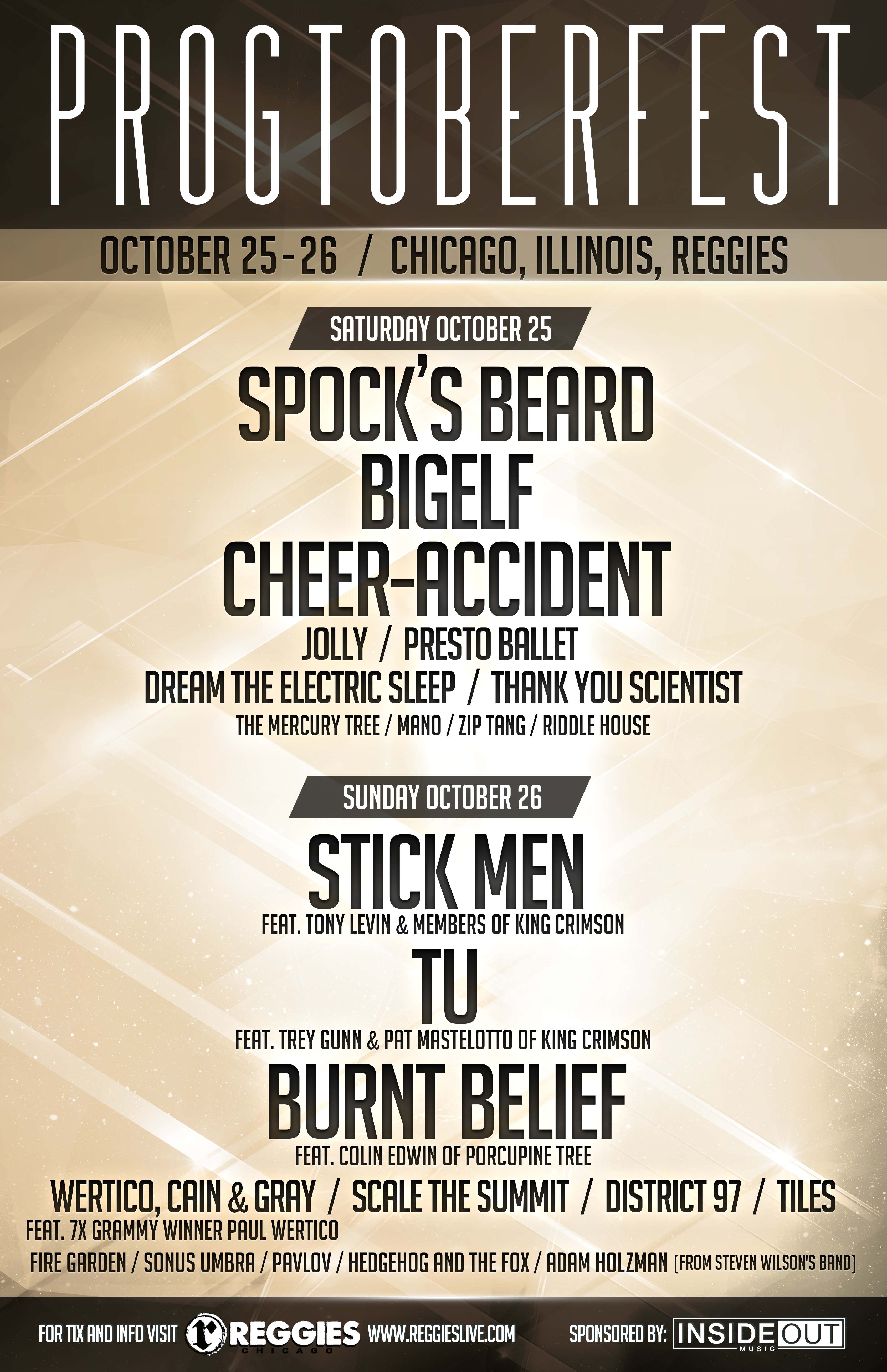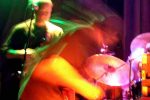 CHEER-ACCIDENT
Hailing from the singularly vibrant musical hotbed known as Chicago, CHEER-ACCIDENT has been a creative, vital force in rock music for over 20 years. They constantly strive to surprise their audiences and themselves through relentless reinvention. From dreamy pop to angular art-rock, CHEER-ACCIDENT strikes a powerful balance between personalized and unique studio wizardry and the visceral excitement of a well-honed, explosive live rock band. The band is a quintet at its foundation, fronted by Carmen Armillas, whose powerfully emotive voice has recently led CHEER-ACCIDENT down the path of even deeper connectedness.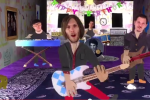 JOLLY
The story of JOLLY starts with four guys growing up in New York City. They attended public school, shared an affinity for 90s rock, and were all big fans of The Fresh Prince of Bel-Air.
On an average temperature day in November 2006, all four guys separately decided to start looking to form their ideal band. One Craigslist reply, one high school reunion, and one awkward conversation later, JOLLY's current lineup, Anadale, Joe Reilly, Anthony Rondinone, and Louis Abramson, was established. They began writing and recording songs, and posting their material on Myspace. A label owner in Switzerland heard JOLLY and offered them a record deal, and suddenly the band's plans to record an EP transformed into recording a full-length album.
In July 2009, JOLLY released their debut album, Forty-Six Minutes, Twelve Seconds of Music, under Galileo/ProgRock Records. JOLLY created a small buzz, and some even said it was one of their favorite albums of the year. The album contained binaural tones, which when heard alone have a low "woo-woo-woo-woo," sound, but scientific research shows that they actually can enrich feelings of relaxation, focus, creativity, and happiness.
In April 2010, JOLLY flew over an erupting volcano to get to Europe to play a small tour with Riverside and Pure Reason Revolution. The airplane food was salty and the flight was long, but again, JOLLY created a buzz, which led to a record deal with InsideOut Music/Century Media Records.
In March 2011, JOLLY released The Audio Guide To Happiness (Part 1), the first of a two-part series that is scientifically designed to bring a listener to a state of true happiness. The band collaborated with a professor and a few grad students at a nearby university, who conducted studies on over 5,000 subjects to perfect the usage of binaural tones to optimize the JOLLY listening experience. It was the peak of the band's pretentiousness, but also a very rewarding undertaking.
After releasing part one of The Audio Guide, which received critical acclaim and was deemed by many one of the top albums of the year, JOLLY toured the US and Europe. Again, the airplane food was salty and the flight was long, but the band watched reruns of Friends to pass the time. Shortly after returning from tour, Mike Portnoy asked JOLLY to open for his band Flying Colors at Best Buy Theater in Times Square. He even said: "I am a big fan of the last two Jolly albums and handpicked them to open the Flying Colors show in NYC."
In October 2012, Hurricane Sandy struck JOLLY hard, destroying Louis' home, which also functioned as the band's practice space and recording studio. All of Louis' possessions and a lot of the band's equipment were ruined. Needless to say, the members of JOLLY were devastated, but they tried to remain positive. The timing couldn't have been worse; the band was in the midst of finalizing The Audio Guide To Happiness (Part 2), but had to break away from the album to throw out Louis' belongings and completely gut his home. In need of new equipment, JOLLY started a fundraising campaign, and their incredible fans came through in a big way to help the band rebuild after this major disaster.
The Audio Guide To Happiness (Part 2) is now here, and is a standing symbol of JOLLY's recovery from the storm. Plus, all of the people left hanging from Audio Guide 1 can finally complete their journey towards happiness. Don't be surprised if crime rates plunge in 2013.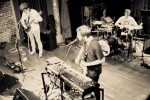 THE MERCURY TREE
This experimental Portland trio, formed in 2006, specialize in creative overuse of their effect pedals. Their latest material includes extensive live looping work, creating huge enveloping layers of sound. At best, they fuse the oddball rhythms and technicality of progressive music with a genuine sense of melody and emotion. Their most recent album, Freeze in Phantom Form, was released in 2012, and a new album is currently being recorded, to be released in September.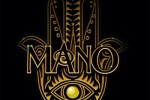 MANO
Mano is a Middle Eastern-inspired progressive rock band based in Chicago. Their compositions utilize musical textures and sounds from varied genres of contemporary, classical, and world music. Mano fuses a rock rhythm section with classical and world instrumentation to bring a unique and energetic live music experience that journeys through intense, thematic unison lines contrasted by sections of virtuosic improvisation. Founded in 2013 by flutist/composer Joe LaRocca, Mano includes Greg Firak (guitar), Parker Grogan (electric/upright bass), Collin O'Brien (drums), Najeeba Syed (violin), Desiree Miller (cello), and Marshall Greenhouse (percussion/kaoss).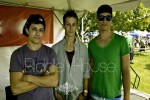 RIDDLE HOUSE
Riddle House is an Instrumental Progressive Rock Trio. Started by the musical passion of two brother's. Ben and Rob Lerner have played together for over ten years. Their first full-length album was released in December of 2012. The band is currently recording a second album with bassist Pete Fenech. Stay updated on the band's Facebook or Twitter for more news on upcoming show's and new music!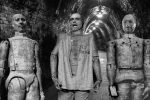 ZIP TANG
Zip Tang began as a conversation between Perry Merritt and Rick Wolfe at a local jam session in a suburb of Chicago, IL. in 2002. The idea was to start a fun little project covering some of their favorite artists' music – Steely Dan, Jeff Beck, Traffic, Yes, King Crimson, etc… The search began for a drummer and keyboard player, and Fred's audition locked in the core trio of the band then known as RPM. With no luck finding a keyboard player, Fred brought in his orchestral mate from the College Of DuPage big jazz band – Marcus Padgett – who played saxophone and a little keyboards.Soon after, the band's name was changed to Zip Tang and the decision was made to start writing original material. The first album released in 2007 – Luminiferous Ether – gained some recognition with the track "Tower Of Tuna" and their interpretation of the "Tarkus" suite by ELP. The next album Pank was warmly welcomed by critics and was nominated for best progressive rock album by the "grass roots Grammys" organization Just Plain Folks in 2009. Great reviews continued with the two follow up releases Feed Our Heads and Das Reboot. In the summer of 2015 ZT v2.0 released their fifth collection of tunes Private Shangri-La. We are currently working on our first concept album with our new bassist Andrew Bunk. Stay tuned for the next chapter!
$90 TWO DAY PASS
includes general admission Saturday and Sunday.
$80 SINGLE DAY VIPVIP Tickets
$80 SINGLE DAY VIPincludes admission for One Day plus BBQ buffet, Poster, and Meet and Greet with bands
$140 TWO DAY VIP
includes admission plus BBQ buffet, Poster, and Meet and Greet with bands (Schedule of Meet and Greets in Record Breakers TBA)
$180 TWO DAY SEATED VIP
includes admission plus BBQ buffet, Poster, and Meet and Greet with bands (Schedule of Meet and Greets in Record Breakers TBA), plus reserved Seating in Rock Club. Seating in Music Joint not reserved.