$7 gets you into both shows.
BUY PRESALE AND GET A FREE ANNIVERSARY SHIRT!!!
FREE buffet from 5-7pm / Shot of Fireball and a PBR for $7
Music Joint 21+ / Rock Club 17+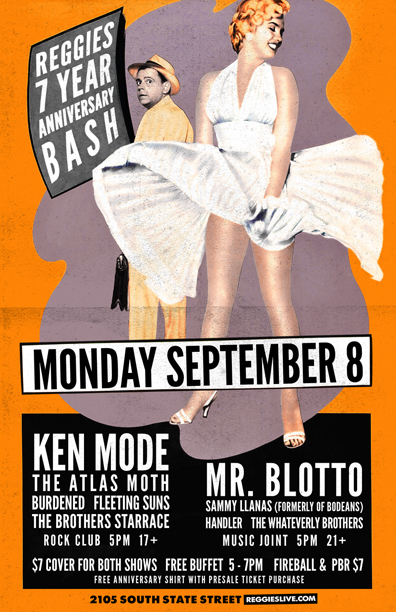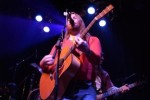 MR. BLOTTO
Mr. Blotto was born in Chicago as an off-night vehicle for musicians who loved each others playing but were in different bands at the time. The only rule was that they would only play what they loved. That philosophy continues today and has led Mr. Blotto into unique musical situations.

Mr. Blotto takes the Jam band asthetic into areas unfamiliar to the standard Jam Scene. They have been known to cover entire albums by Led Zeppelin and the Who as well as perform entire shows of Country and Reggae. Artists as diverse as the Grateful Dead, the Flaming Lips, Willie Nelson and The Velvet Underground have seen their material interpreted by Mr. Blotto in the 2000+ shows the band has performed in the last 15 years, yet covers only pepper the bands hefty catalog of original material stemming from five studio albums and other unreleased crowd favorites.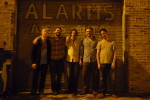 POLLYWOG
Pollywog is a power trio rock'n'roll circus.  This band has a high energy stage show that is engaging, dynamic, and loud.  Featuring a rich mix of deep cut covers and originals that ooze that 70's groove, even their guru sometimes can't tell the difference.  Led by Chicago's ambassador to feeling good with music, TJ Travelbee (Handler, Badvibes, Blue Sky Fable) on lead vocal and an assortment of vintage  Gibson wire wood,  Pollywog unleashes an arsenal of tone with alternate tunings and sweet slide.  Justin Loftus (Dorian Taj, Tumbling Dice, Crazy Heart, Doug McDonald)  owns the low end with a gold sparkled 5 string Fender bass personified with a soul shaking SVT.  Behind his drum kit of thunder, none other than mighty Sam Sharp (Elev8r, J. Davis, Ain't No 'Er) holds the Pollywog together with a heavy foot and a twinkle in his eye.
What is the Pollywog?
Midway thru Dr. Seuess' American novel 'One Fish Two Fish', there is a picture of an odd bird flying out of the ear of another odd creature.  This enigma, this creature of sonic adventure is the Pollywog.  She lives in the imagination as the Original Bird – something's inside of you and you need to let it out!  We know what it is and we know what you need.  So get your ass to the Pollywog show and prepare for the exorcism of your soul.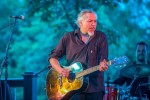 SAMMY LLANAS
(formerly of BoDeans)
Sam Llanas (pronounced yanas), formerly of the BoDeans, will release his new album The Whole Night Thru November 18th. Determined and confident, gloves are off on this guitar-driven collection, produced by longtime collaborator Gary Tanin featuring nine new Llanas originals.
With a career spanning decades, Llanas is continuing his solo pilgrimage after 25 years with the band he co-founded. His 12th studio album and third major solo effort, The Whole Night Thru, blends the roots-rock style that was a signature sound of his former band with Llanas' own genre-bending musical influences.
Work on the new record started in 2013 occurring over a few weeks time. With the majority of the basic tracks recorded, Llanas began completing The Whole Night Thru at Daystorm Music in Milwaukee with producer-musician Tanin, who had also worked on the singer-songwriter's previous solo efforts, A Good Day To Die, 4 A.M. (The Way Home) and 4/5 Live – Vol. I. Milwaukee musicians Sean Williamson, Matt Turner and Ryan Schiedermayer contributed guitar, bass, drums & percussion respectively, while Tanin supplied the string arrangements, piano and mellotron on the new recording.
Llanas' new solo opus reveals a new found clarity, "I view The Whole Night Thru as my first 'official' solo record. Though I previously released two solo studio records, I had always been very careful to not compete with the BoDeans sound. But now that I'm no longer in that band, the gloves are off and this is a record that has many elements that fans of my former band love. If fans are looking for that BoDeans sound, it comes from my voice and it's all over this record." The result is a mix of Johnny Cash's fiery fervor and Otis Redding's nostalgic soulfulness, without limitation– stylistically or by genre classification.
"I've always been influenced by what I heard. In the '60s, when radio was wide open, you would hear the Beatles and the Stones, Motown Soul and Atlanta Soul, Aretha Franklin and Otis Redding and Southern Soul. You'd hear Tom Jones, The Carpenters, Glen Campbell and country artists, you'd hear Johnny Cash and folk. Those songs were all really well-written and well performed."
In asking about his departure from the band he co-founded Llanas clarifies, "I think people have this misconception that I left The BoDeans to pursue a solo career, but that's just not the truth. I never wanted the break up of the BoDeans. It broke my heart."
Going solo at this point in his career, however, has allowed Llanas to combine the experience of a seasoned professional with the passion of an emerging artist. It is a need for deep self-exploration and expression that drives him to create his music and continue to perform. As Llanas admits, "I think the best part about being solo has been that I get to express myself completely now. I never got to sing half of these songs, and I always wanted to. I love being able to have that freedom."
On The Whole Night Thru Sam Llanas embraces his new found freedom revealing a unique musical style that is simultaneously invigorating, passionate, inspiring and a surprising place of calm.
 Sam Llanas' The Whole Night Thru will be available on digital and CD formats November 18th via Llanas Music (distributed by OARFIN).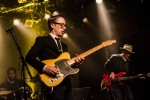 JOHN PAUL KEITH
John Paul Keith, the brilliant singer-songwriter and blistering guitarist who exploded out of a self-imposed musical exile in Memphis with 2009's critically acclaimed Spills and Thrills and 2011's The Man That Time Forgot, returns with Memphis Circa 3AM—his most accomplished and moving collection of songs yet.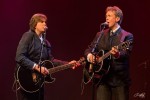 THE WHATEVERLY BROTHERS
Jeff Janulis and Mike Cohen are WhatEverly Bros…along with Carl Lubicz (bass), James Hurley (drums) and Rich Maisel (guitar)
The Bros cover the Everly Brothers' halcyon days of rock'n'roll and dabble in music from whatever floats their boat at the time…to a load of rockabilly and other things 'twang'.