The concert featuring The Queers + The Dollyrots is POSTPONED.  New concert date TBA.
Your purchased ticket will be honored at the rescheduled date. If you can no longer attend, refunds are available upon request.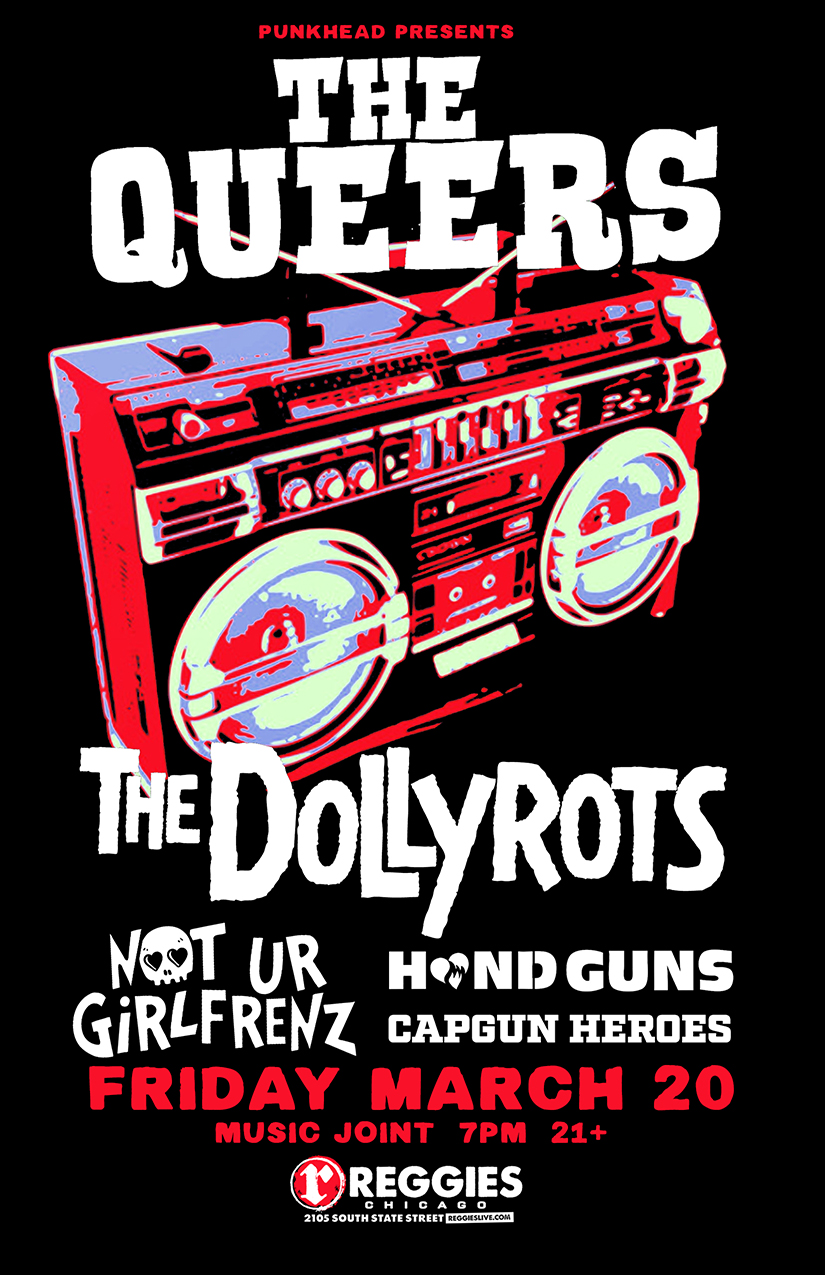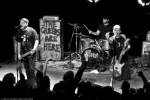 THE QUEERS
We've been playing music and touring all over the world for almost 30 years now. We released a few records for Lookout! Records in the early 90s and then had a terrible stint with Hopeless in the late 90s. I don't think they wanna see us and we definitely don't wanna see them. Then we released one more record with Lookout! but afterwards switched to our favorite record label we've ever had, Asian Man Records. All this while touring a bunch. We'll see you soon, we're The Queers.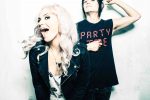 THE DOLLYROTS
Screaming, staying up all night, and vomiting everywhere are trademarks of a memorable punk rock tour. And also parenthood!
In 2013, pop punk sweethearts The Dollyrots reproduced. But their new baby didn't slow them down: they just brought him on tour. Thus the title of their upcoming live CD/DVD, Family Vacation: Live in the USA.
Set for release on January 29, 2016, Family Vacation is a concert film with a companion live album that captures The Dollyrots on their 2015 summer tour with long-time roadmates Bowling For Soup. It's 40 minutes of pure rock frenzy, harnessed by filmmaker Ian MacLeod and delivered as both a video/audio download and deluxe double disc set.
The term "family" not only describes singer/bassist Kelly Ogden, guitarist Luis Cabezas, and their baby River, but also the extended family of Dollyrots fans, who supported the creation of this live CD/DVD by crowdfunding it on PledgeMusic. Those who contributed to the project will receive the film and album weeks before the public street date, and will also be privy to some special extras, including a bonus studio EP and exclusive memorabilia. As Kelly puts it, "There are a lot of fans who might never get out to a Dollyrots show in the flesh, so we did our best to bring the experience to them. The only things missing are the ringing ears and sweaty hugs…but other than that I think we nailed it!"
Since their formation 15 years ago, The Dollyrtos have played over a thousand shows and released five studio albums, but Family Vacation is their first ever official live record. After releasing material on both Lookout! Records and Joan Jett's Blackheart Records, the band decided to go completely independent for their last few releases, and 2014's Barefoot and Pregnant (released through the band's own label, Arrested Youth Records) enjoyed a #7 debut on Billboard's Heatseekers Chart. They hope their fans will similarly embrace Family Vacation, which will be released just before the band embarks on a three-week tour of the United Kingdom with Bowling For Soup next Feburary.
Screaming, staying up all night, and vomiting everywhere: Family Vacation shows that punk rock and parenting aren't so different after all. And it stands as proof that just because you grow up doesn't mean you have to stop being awesome.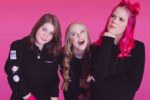 NOT UR GIRLFRIENZ
Inspiring youth across the nation and beyond to pick up an instrument and find their passion – that's what NOT UR GIRLFRENZ is all about. Along the way, this young Dallas-based, all-girl power trio is making waves in the local market with their high-energy shows, award-winning performances and an ever-growing base of loyal fans, a.k.a. "The Frenzone".
NOT UR GIRLFRENZ was recently crowned 2017 "Battle of the Legends" Champions by Dallas' new premiere music venue, Lava Cantina – besting adult bands several times their age, and captivating audiences with their combination of youthful energy and musical prowess.
NOT UR GIRLFRENZ is Liv Haynes (13), a tour de force on guitar and lead vocals; Maren Alford (13), who beats the drums like they owe her big money; and Gigi Haynes (11), keeping it sick and steady on bass. Influenced by greats like Foo Fighters, Paramore, Green Day, Heart and Led Zeppelin, NOT UR GIRLFRENZ already rocks iconic classics, soon-to-be classics, and their own brand of original music.
The band is currently working with producer Jaret Reddick, Grammy-nominee and seller of over a million albums as front man for pop punk icons Bowling for Soup.
NOT UR GIRLFRENZ is also featured in the 2017 Reliant Energy "Girl Power" ad campaign with VO by fellow Texan Matthew McConaughey. Drummer Maren Alford is also a guest blogger for The Gretsch Company (gretsch.com).
Illustrating "Girl Power" at its finest, NOT UR GIRLFRENZ has only scratched the surface of what the future holds for them in today's music industry – if they promise to complete their homework first!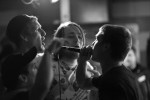 HANDGUNS
"Whats up we are a pop punk band from Harrisburg Pa. We believe in hard work and having fun. We don't have famous friends we are not critically acclaimed and no one in this band was ever in some famous band who's name we could drop or coat tail we could ride. But we will get up earlier than you and work longer and harder. That has to count for something. If it doesn't then at least we had a hell of a good time trying and made some amazing friends along the way."