Come on out to the Bolt Thrower Pre-Party and enter a drawing for the right to purchase tickets to Bolt Thrower on 6/1 or 6/2. Ten tickets will be made available to each show at the Pre-Party. Don't miss out, no other tickets will be released.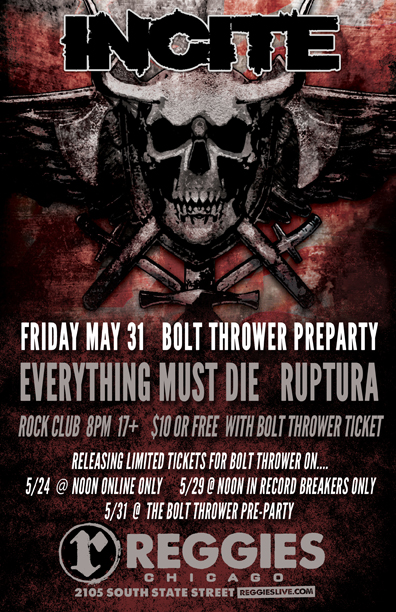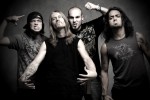 INCITE
Incite are locked and loaded for a modern thrash revolution.
The Arizona quartet fuses tight, technical shredding and monstrous grooves together on their formidable second full-length release produced by Logan Mader [DevilDriver, Fear Factory, Five Finger Death Punch, Gojira]. Due out fall 2012 on minus HEAD Records, it's brutal, bludgeoning, and bloodthirsty metal.
Singer Richie Cavalera is no stranger to quality heavy music. Immersing himself in the genre as a kid, his destiny was always the stage.In 2004, along with Zak [drums], Dis [guitar], and Luis [bass], Richie formed Incite with that in mind.
Soon after, the band destroyed venues across Europe, Canada, Australia and the United States with everyone from Dillinger Escape Plan to Soulfly, garnering rave reviews from tastemakers such as Kerrang! in the process. The group's 2009 debut, The Slaughter, left an indelible mark on the genre. Revolver called it "thrash that's hard to refuse/resist", and the single "Army of Darkness" hit #31 on the Sirius Metal Charts.
Now, they're bringing everything to a new level with their second full-length. Incite's modern musical assault and battery has been honed and sharpened. It's their time now. You've been warned.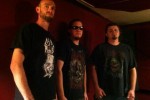 EVERYTHING MUST DIE
EVERYTHING MUST DIE, Chicago three-piece grindcore that mixes elements of hardcore, death metal, punk and all forms of extreme music to create a violent, intense sound with all three members as singers. Guitarist Ryan Richards (EARTHBURNER, NO CONVICTION), bassist John Seidelmann (NO CONVICTION) and drummer Ryan Cawley (DEVANGELIST) were in search of a new sound in March of 2012, and within one month formed EVERYTHING MUST DIE, quickly recorded their TIME TO DIE demo, and went on the road as the opener for D.R.I., sharing their gear and cheap beer across the mid-west. Afterward, the trio hunkered down to perfect their sound and write new music, shredding the stage with bands like CANNIBAL CORPSE, GOJIRA, GREEN JELLY, CAR BOMB, and many more. EMD went back to Mercenary Digital Studio to record their debut album LIVE TO KILL, which was released in January 2013. In the true spirit of do-it-yourself, they made a lyric video for their song "School Shooter", and soon after their song "SANDUSKY" was featured on a grindcore compilation album GRINDING FOR A CURE, featuring 100 bands across the world, compiled by members of Phobia and Noisear. EMD is currently grinding anywhere they can, promoting the album, writing new music, building a strong fan-base and seeking a record label to help spread the word and put EMD on a stage near you!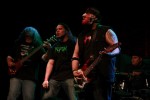 RUPTURA
Ruptura is made up of The Mad Cow on vocals, Big Roff on the bass and back-up vocals, Frijolero as the psycho monkey drummer, and Toro on the guitar and back-up vocals. We formed in late 2007 and have been doing what we love ever since. We continuously draw a crowd to our shows, seeing new people coming out to support our music. We have had some crazy shows and some crazy pits. Our fans are the reason why we take stage at every show, giving our 110% and nothing less. Want to know more about our style? Come to our next show and see for yourself.