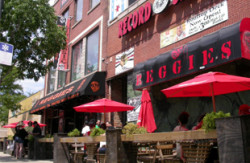 Reggies Chicago
REGGIES brings a music fan's ultimate dream to reality with a terrific bar and grill, kickin' rock club, comedy shack– all under one roof!
On September 8, 2007, REGGIES opened its doors, transformed from a once run-down auto bumper repair shop. Now home to one of Chicago's hottest music scenes, REGGIES has hosted the Tragically Hip, Alkaline Trio, Gaslight Anthem, Carl Palmer, Supersuckers, The Dillinger Escape Plan, Screeching Weasel, and many other top acts.
REGGIES' MUSIC JOINT – our laid-back bar and grill with great live shows, feels like it's been a neighborhood fixture for years.
REGGIES' ROCK CLUB — our close-up-in-your-face concert venue, with special emphasis on innovative, cutting-edge bands.
REGGIES' ROOF DECK — enjoy food and drinks atop one of the coolest rooftops in the city. Play free pool, bags, and shoot hoops before cooling off with a nice cold shower.
REGGIES' ROCKIN' BUS — complete fleet of vintage buses ready to run to the game, concert, local event or road trip. Roll with us and don't fight traffic or pay for parking. Our buses are available to get your group to the show, party or event.
Time Travel Magazine includes REGGIES' in:
Chicago: 10 Things to Do in 24 Hours. Come see why.