7th Annual Chicago Women in the Blues Festival
A Bevy of Blues Bombshells!  A legendary, rollicking night of high-energy diva power showcasing top female blues performers from the Chicagoland area. Hosted by "Black Cat" Joan Gand on keyboards and the Gand Band.
Ride the Reggies Rock Bus to and from the Chicago Blues Fest June 9th-11th!  We'll have amazing afterparties and blues legends you won't want to miss!
Friday & Sunday: Shuttle runs from noon – 9/:30
Saturday: Shuttle runs from 4 – 9/9:30
Drop off/pick up
8th & Michigan between the Hilton and Essex Inn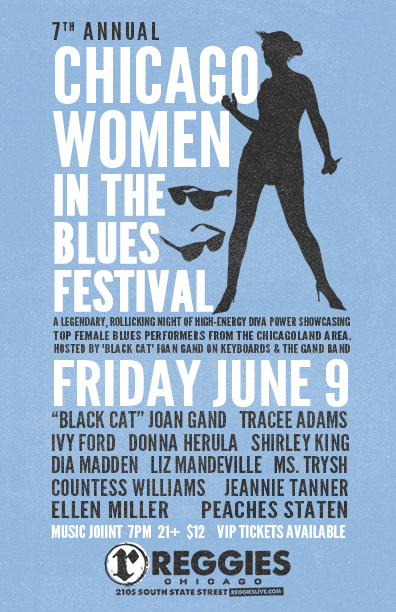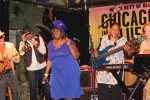 CHICAGO WOMEN IN THE BLUES FESTIVAL!
A bevy of blues-belting bombshells take center stage in this high-energy blues review, featuring a rotating roster of Chicagoland's top female blues performers. The show is dedicated to the memories of the original great blues women of Chicago.
Hosted by "Black Cat" Joan Gand on keyboards and the Gand Band
*Lineup subject to additions and changes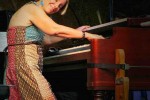 "BLACK CAT" JOAN GAND
Joan Gand pays homage to the classic blues keyboard players including Memphis Slim, Booker T, Otis Span, Pinetop Perkins, Jimmy Smith and Charles Earland. This event was dedicated to the memory of KoKo Taylor, the greatest Chicago Woman in the Blues!  The Gand Band features Gary Gand on guitar, Tony Dale on drums, TK on sax, Blake Wollerman on harmonica.  For more info, see www.thegandband.com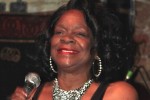 TRACEE ADAMS
Tracee Adams: A South side regular on the blues scene with a powerful voice and presence in the tradition of Aretha Franklin. Always an audience favorite at Chicago Women in the Blues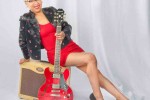 IVY FORD
"Miss Ivy Ford, wise beyond her years,"
Ivy Ford, singer, musician, entertainer. Waukegan born and raised, at just 22 she is quite the up and coming artist of the Chicago blues and live music scene. Ivy Ford started performing live with Kenosha based band The Real Deal, managed by Steve Rainey at 13 and since then continues to nurture her niche and calling to the music. She plays piano, alto saxophone, drums, bass guitar and guitar which are primarily self taught. In late 2012, Ford joined a local blues band which in time evolved into Ivy Ford and The Cadillacs and gained fair amounts of popularity.
Fast forward two years and Ivy Ford has managed to take the Chicago scene by storm. In January,2015 Ivy Ford opened for the legend, Buddy Guy at his club in Chicago and continues to share the stage with Chicago blues hall of famers, J.B. Ritchie, Joe Moss, Toronzo Cannon and Tom Holland. She fronts her very own band and besides obtaining the title of "Chicago's Blues Kitten," performs song selections from not just the blues genres but RnB and soul. Aside from performing every weekend at both private and public event, clubs and venues, she is in the process of recording an unplugged album including originals. Some recent event for Ford include, radio shows on 90.9 WDCB, and In a Nutshell radio show on 98.3 WRLR. She's been apart of Buddy Guys Legends, Artist series and traveled to Minneapolis, MN to perform at Artspace's 2013 Celebration at the Cowle Theater. Ivy Ford has been featured in Buddy Guy's Blues and Music News, Lake County Magazine and Blues Guitar Expert's online forum. To follow or check into Ford's shows and happenings go to www.Facebook.com/IvyFord or Twitter at #MissIvyFord.
Ivy Ford, is one of the leading "youngbloods" of blues and brings a refreshing yet classic face to the music. She handles her cherry red, Epiphone-339 with as much confidence as any of the bluesmen today and can belt out notes to fill a room and serenade a phrase sweeter than sugar in ways that make anyone and everyone tune in to what she has to say. Ivy Ford, always respects the history and tradition of roots and blues music, while presenting it in a fresh, young and trendy way.

Passing The Torch…
When not fronting her own blues party, Ivy is quite respected backing up Chicago Blues Hall of Fame Inductee, J.B. Ritchie. Legendary guitarist and frontman as his bass player. Ritchie has played alongside some of the greats himself and has been amongst famous artists such as Muddy Waters and Johnny Winter.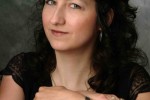 DONNA HERULA
With a percussive guitar style and soulful voice, Donna plays fingerstyle as well as blues slide guitar on her resonator guitars, including a 1930's National Steel Triolian and National Steel Tricone.
Donna was born and raised on the northwest side of Chicago. She began playing guitar at the age of 10. By 16, she was playing lead guitar in bands and writing original blues songs.
Influenced by slide guitar players Rory Block, Bob Brozman, Bonnie Raitt, John Hammond, Jr., Eric Sardinas, and Johnny Winter, Donna set out to discover the early blues musicians that inspired these players, which included Son House, Robert Johnson and Muddy Waters.
An accomplished slide guitarist, Donna performed a tribute to slide guitar master Robert Nighthawk at the 2009 Chicago Blues Festival for his centennial celebration. She also performed as part of a Nighthawk symposium for the Delta Cultural Center in Helena, Arkansas (Nighthawk's hometown), the King Biscuit Blues Festival (Helena, Arkansas), the Mother's Best Music Festival (Helena, AK), the Bayfront Blues Festival (Duluth, MN), Blues By The Bay (East Twas, MI) and The Festival for the Eno (North Carolina).
With harpist John Jochem, Donna won the 2010 Chicago Blues Challenge, solo-duo category, and represented the Windy City Blues Society at the 2011 International Blues Challenge.
Donna's second CD "The Moon Is Rising: Songs of Robert Nighthawk" was released in February 2011. The CD reached #32 on the Roots Music Report for most played blues album on the radio. In October 2011, Donna was nominated for the Best Female Blues Artist by the Chicago Black Music Awards.
Donna plays National steel guitars and is a featured artist on the National Reso-Phonic Guitars website.
She has been on blues radio programs including King Biscuit Time and Delta Sounds, with Sonny Payne, legendary host and member of the blues hall of fame, and Terry Buckalew, both on www.kffa.com through the Delta Cultural Center in Helena, Arkansas.
SHIRLEY KING
Daughter of the one and only B.B. King…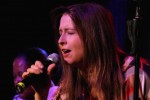 DIA MADDEN
A veteran of all 6 Chicago Women in the Blues shows at Reggies, Dia Madden is lead vocalist with the Gand Band, Cruise Machine, and has toured for the past few years with the Legacy Girls, a trio that performs the music of girl groups from the 40's – the 60s.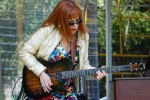 LIZ MANDEVILLE
Chicago Blues Hall of Fame Master Artist, Liz Mandeville, has been a force of nature on the Chicago Blues Scene for over three decades. Known for her power house voice and prolific songwriting, Liz won both the International Songwriting Contest and the USA Songwriting contests and was named 2008 Blues Songwriter of the year by the American Roots Music Association. Last month she was named to "The Top 40 Modern Blues Artists" list by Alternate Root Magazine.
With her recording debut on 1996's "Live from Buddy Guy's Legends," as a singer with the Aron Burton Review (house band at Blue Chicago for 5 years) Liz Mandeville was a featured artist on 3 other releases from internationally recognized Earwig Music Company. She released 4 CD's of her own music for Earwig between 1996 and 2oo8. Liz also contributed her talent to Johnny Drummer's CD, Unleaded Blues and is featured on two Earwig Boxed Sets as well. Liz's original song, "Scratch the Kitty" from her 2008 Red Top CD spent 22 weeks at #1 on the Cashbox Charts. Most recently, Liz is featured on Earwig's 2015 release, "Angles Sing the Blues" with Shirley Johnson and Mary Lane.
Liz Mandeville released two CD's on her own label, Blues Kitty Music and has plans to release a third this year. Her current release, Heart 'O' Chicago, is in regular rotation on Stingray Music and SiriusXM. Liz is not only an award winning singer, songwriter & record producer, this year she was nominated for a Jimi Award for her guitar playing, which has been compared to the legendary Chet Atkins and, in some circles she is almost more famous for her washboard playing!
Liz Mandeville has performed in every major blues venue in Chicago, holding down long tenures at Blue Chicago, Rosa's, Bill's Blues, Kingston Mines. She's toured in 11 countries on 3 continents including headlining festivals such as the Durban South Africa Blues Festival (twice) Maastrich Queen's Day Fest NL, Sasquatch Reunion in Alberta Canada, Chicago Blues Festival, Riverfest NM, and many others. She's played nearly every state in the lower 48 and Hawaii as well.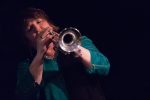 JEANNIE TANNER
Jeannie Tanner is Chicago's multi-talented vocalist, trumpet player, pianist, and composer, joining Chicago Women in the Blues for the first time this year.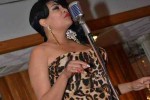 COUNTESS WILLIAMS
The Countess became fascinated with music at an early age, inspired by her grandmother's singing and music. She won a poetry contest writing about her mother's murder in 1996. Now all her passion comes from the pain of a mother gone to soon. One minute sexy and seductive and the next down right rough. Her style pays tribute some some of the best: Nancy Wilson, Rachelle Ferrelle, Billie Holiday, Gladys Knight, Aretha Franklin, Bill Withers, Al Green the list goes on. She has performed with the Mike Wheeler Band, Carl Weathersby, Charlie Love, and was a finalist for Chicago Blues Divas at BLUES on Halsted. Her comedian side and creating a song on the spot adds a extra touch to her show. She will leave you on the edge of your seat waiting for her next performance.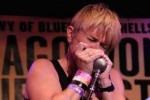 ELLEN MILLER
Ellen Miller: Blues harmonica ace and leader of Nelson Street Revival band which features international blues sensation Peaches Staten, Anne Harris on fiddle (of the Otis Taylor Band), and Cathy Richardson, Grammy-nominated solo artist and currently lead singer of Jefferson Starship.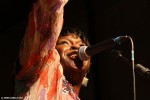 PEACHES STATEN
Peaches Staten is a world-class entertainer who is known for jet-setting across continents spreading the joy of blues. One week she is in Europe, the next in South America, back to the states then off again at the drop of an e-mail to some corner of the world entertaining the masses. Here we find her standing as the last blues artist to do a live recording at the original Buddy Guy's Legends. It is the last Sunday before it relocates after 21 years of being on the corner of South Wabash just steps away from Chicago's Blues Festival Grounds.
Staten was born in Doddsville MS. and raised in Chicago on a steady diet of blues, soul, gospel and R&B fed to her by her mom who was a member of the Whale's Inn Cicero Bunch Social Club and her stepfather was the DJ. She began her professional career in a zydeco band and an Afro Brazilian Samba ensemble and has gone on to work with the best that the blues has to offer and grace stages all over the globe. Her new CD, Live at Legends, is electric and Staten is engaging and energetic with a person- ality that pulls you into her inner cycle. She's not only the entertainment but she's also your hostess, your seatmate, your date and BFF all at the same time. She is an in- credibly talented player and surprises the audience when she plays it on boogie blues tunes like "Hole in the Wall" or zydeco-influenced originals like "Gotta Find My Man." Her rhythmic style and musicality are impeccable and though you can't see it on record her high chorus line kicks and flirty two stepping give the audience a jolt which is translated into sound on Live at Legends!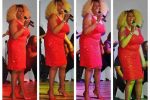 MS. TRYSH
Kathryn Patricia Hill-Granberry, (Ms. Trysh) was born in Bolívar, Tennessee and spent most of her adult life in Chicago, Illinois.  She is tenth of twelve children.  Her family was blessed with "all" singers and musicians.  Ms. Trysh's ability to sing was well known throughout the community and the local churches.
After college and working in Corporate America for several years, Trysh decided it was time to pursue her dream.  In 2010, she started a catering and entertainment business, "From the Kitchen to the Stage" which stems from her passion for cooking, singing and entertaining.
In addition to getting her new venture off the ground, Trysh is using every opportunity to open the many doors before her.  To her credit, Trysh has: auditioned for the X-Factor TV show and advanced to the final audition; auditioned for the Grammy Winning TV show, "The Voice" which she advanced to the blind audition; second finalist to open for Jill Scott concert in Indianapolis, IN; was one of five finalist for the V-103 opening act for the Taste of Chicago; has performed with: Howard Hewett at the Legacy Theater, B.L.U.E.S. Chicago, South Shore Country Club, Lee's Unleaded Blues, and with Countess Williams at Buddy Guy's Legends.
$30 Front Section Seat
Includes admission and reserved seat with dinner.
$20 Table Seat
Includes admission, and guaranteed table seat