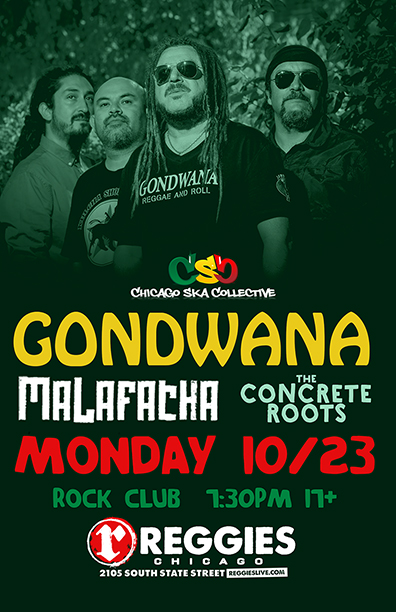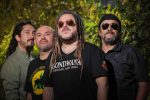 GONDWANA
(from Chile)
For years, the Chilean band Gondwana has been spreading the word of Jah Love. Emerging from the Latin root in reggae, Gondwana brings forth a fresh blend of Latin and Jamaican rhythms. With pulsating energy and a smooth sound, nine polished musicians are the soul of Chile's number one reggae band.
Songs of love, social commentary and spiritual praise, Gondwana reveals positive messages that serve as an uplifting vibration for fans of all musical genres. Spirit moving falsetto notes, bubbling bass, hard drums, tight horns and guitars with the ability to move with ease in a sound ranging from calypso to hard rock; are the skillful ingredients found in the highly acclaimed Gondwana.
Without a doubt, Gondwana is one of the most prestigious, solid reggae bands to emerge from South America. With a constant movement across the continent and an endless myriad of vibrant live shows, Gondwana continues to deliver a bullet-proof repertoire of hits and new material. The band is internationally recognized as Chile's most successful musical act.
Already superstars in their native Chile and throughout South America, Gondwana has been gaining very enthusiastic fans throughout the world one by one. From humble beginnings in La Pincoya, a northern Santiago ghetto, to a leading position in Chilean pop music, Gondwana has remained true to their original posture, standing tall and strong in a peace-loving position of musical and lyrical creation.
Formed in 1987, Gondwana has been awarded several multi-platinum albums throughout its 24 year career. Additionally they've performed numerous times in what are known to be some of the most important festivals throughout the continent. Recently, Gondwana has performed at the legendary "Reggae on the River Fest" earlier in 2011 in California, "Rock Al Parque" Colombia, "Vive Latino" Mexico, "Pepsi Music Fest" Argentina, "Cosquin Rock" Argentina, "Quito Fest" Ecuador and on numerous occasions at the prestigious "Vina del Mar Festival" in Chile. Upcoming shows November 17th at The Social (www.thesocial.org) in Orlando Florida followed by "Bayside Rocks Music Fest" (www.baysiderocksfestival.com) in Miami, Florida on November 19th, sharing the stage with the legendary Bunny Wailer, the original Wailers and Cultura Profetica to name a few.
A surprising aspect of Gondwana is their notable digital activity as demonstrated by their ever-growing YouTube fan base that's currently over 40 million views with an average of 30,000 monthly visitors accessing the band's official website www.gondwana.cl. This can only be attributed to a rarely witnessed romance between the band and its fans. The fact that the band maintains such incredible web fan base demonstrates what a massive impact the band has in order to reach millions of young hearts across the world, especially considering that the band has lacked the support from prominent producers or the support of any one of the major record labels during recent years.
At the beginning of 2011 the band released their first official best-of, titled "Pincoya Calipso" (Sony Music). The 17 re-mastered tracks are compiled from the band's catalog along with 2 new songs that are an anticipation of their new studio album scheduled for a 2012 release.
After an extensive 2011 touring schedule that included several dates in Chile, Argentina, Uruguay, Venezuela, Canada, Mexico and the US, Gondwana began pre-production of their upcoming new studio album (not yet titled).
The new album will be recorded at Gondwana's own studio and will feature their new lead singer, MC Jona. Additionally Gondwana was invited to participate on 2 tracks "Could You Be Loved" & "Concrete Jungle" for the upcoming 2012 release "Tribute to Bob Marley 2" featuring
GONDWANA is comprised of the following members:
I-Locks Labbe on bass, MC Jona on lead vocals, Yayo Loyola on drums, Leo Dread on percussion and background vocals, Pancho Contreras on trumpet, Keno "Fingaman" Valenzuela on keyboards and background vocals, Hugo Prado on trombone, Gato Ramos on saxophone and Pez López on guitar.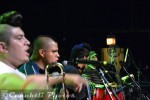 MALAFACHA
Malafacha is a Ska band with Reggae and Latin rhythms that was formed in 2003 in Pilsen's Hispanic Bohemian neighborhood in Chicago, IL. Malafacha is conformed of 8 members, Moises Bello -lead voice, Alejandro Cruz -drums, Ivan Bello -alto sax and choirs, Ezequiel Cruz -bass, Juan Abad-trombone, Armando Pescador – percussions, Roberto Carlos Tovar (Charlie) -guitar and Martin Orosco -Keyboard. All different personalities and musical tendencies between the band members has brought the band to obtain an original sound with a base of Ska, Reggae and Latin rhythms mixed with Punk, Metal, Cumbia, Rock, Disco and an endless fusion of genres that makes of Malafacha an unique band.
Malafacha takes it's name from the lyrics of "Chilanga Banda" a song written and performed by Jaime Lopez and Jose Manuel Aguilera both are a very well known as classic Spanish rock exponents in México. Cafe Tacuba later recorded this song. Malafacha is a word that doesn't really exist in the Spanish Dictionary and though some people will give it the meaning of dress badly, for us Malafacha is a style of living. For some conservative people will be thought as "bad dressed", but for us is looking our best, being original and keeping our freedom of expression, we promote that people should fight for their ideals, living free and in peace. Malafacha doesn't believe in distinction of race, doesn't respect frontiers neither repression. Malafacha is a sublime cry of liberty, describes themselves and believes everybody is a citizen of the world,
Malafacha had shared the stage with a big number of bands including some of international recognition such as Maldita Vecindad, Panteon Rococo, El Gran Silencio, Victimas del Dr. Cerebro, The Wailers, Gondwana, La Castañeda,The Toaster, Rata Blanca, Salon Victoria, Sekta Core, Genitallica, Nana Pancha, El Haragan, Banda Bostik, Kenny y los Electricos, and La Tremenda Corte. Also Malafacha toured some if the USA cities on 2009 as invited musicians for La Royal Club. Malafacha has performed in big and small cities through the USA, it does not matter where do fans live Malafacha will visit their city when they least expect it.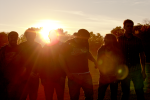 THE CONCRETE ROOTS
The Concrete Roots is a collaborative of Chicago artists. Coming from various bands & scenes, they've created a unique 6 piece bringing more power to the Chicago Reggae scene than ever before. Combining rootsy vibes with HipHop bass lines, soulful harmonies, and hard hitting drums that separates The Concrete Roots from every other mainstream reggae band. their high energy live show and particular cross genre sound can appease every music lover