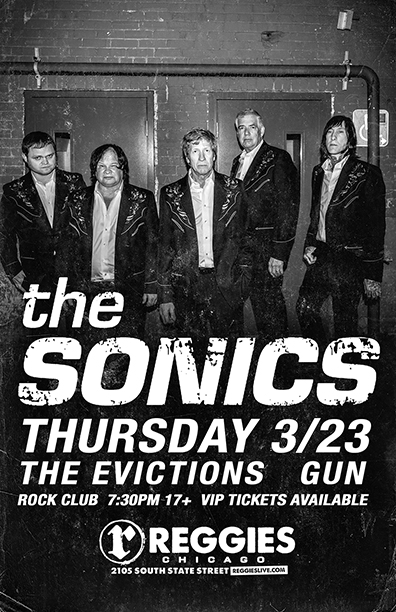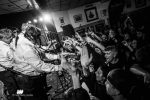 THE SONICS
Since the beginning of the Northwest Sound, the Sonics set the precedence and the pace that gave to every musician and band that followed the inalienable right to take rock to the edge of the universe, to explore the possibilities, to get out of the rut, experiment, and to scream your guts out, that you have arrived, and to continue that thought.
The Sonics have remained the most recognized sounds ever listened to by aspiring musicians and multitudes of fans around the world.
Originally from Tacoma, WA, The Sonics are claimed worldwide to be the first punk band, or garage, or hard rock, or alternative, setting the stage for all that would follow. The Sonics are still based in the Northwest USA.
Following their early retirement from being the SONICS they left a legacy and decades of fans who continued to spread the word and the music. Still revered, in late 2007 the Sonics regrouped and reignited on the scene in Brooklyn, New York headlining two sold out shows at the Warsaw.
The Sonics return has sparked international promoters, journalists, reviewers, festival organizers and hordes of dedicated and new fans to embrace the group whose music has thrilled and inspired so many for so many years.
Original members of the Sonics included Bob Bennett, Drums; Larry Parypa, Guitar; Jerry Roslie, keys and lead vocals; Rob Lind, sax, harp and vocals; Andy Parypa, bass;
The Sonics today includes: Jerry Roslie keys, lead vocals, Rob Lind, sax, harp and vocals; Larry Parypa, guitar bkg vocals; Dusty Watson, drums, and; Freddie Dennis, bass and vocals.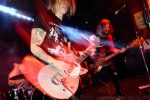 THE EVICTIONS
A new Chicago rock band with members of Black Actress, the Last Vegas, and the Lucks.
Equal parts garage, trash, and punk rock, the Evictions are steeped in hooky choruses and high energy that evoke the Stooges, the Hives, Mudhoney, and Bad Wizard.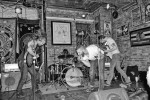 GUN
Gun. From Munster, Indiana. Gun plays Garage/Punk/Blues tinged songs. Gun sort of sounds like The Sonics, and The Black Keys, and The Cramps, but then again, not really. Gun mixes rum and whiskey together ("along with some other shit") and drinks it. Gun calls it "Riskey". Gun has had 11 drummers over the years. Gun has an affinity for "shitty speed". That might be something they use to describe their music. Or they're talking about drugs. Maybe both. Gun plays their music live. Gun shows are unforgettable. Gun.
$35 Above Stage
access to Above Stage Balcony
$65 Red Chair
reserved plush chair in balcony across from stage.