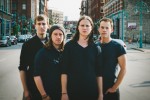 SCOTT DANGERFIELD & CRASH COUNTY
Crash County was formed during the summer of 2009 with singer Scott Dangerfield, drummer Patrick Gonyo, guitarist Jacob Brenwall, and bassist Chris Bartel. After a year hiatus from their previous band, the members picked up their instruments once again and began to write new music. It began with weekend jam sessions in the basement of Scott and Jake's house in Milwaukee's Riverwest neighborhood. After a few sessions it became clear that their musical chemistry did not depart during their time away from music. Work on their first album began in earnest.
In early 2011, Crash County received an unexpected boost when singer Scott Dangerfield appeared on the Milwaukee audition episode of Fox's hit TV show American Idol. Following his soulful rendition of Amos Lee's "Dreamin'," judge Jennifer Lopez exclaimed "You might be my favorite so far!" Similar praise was heaped on by Randy Jackson and Steven Tyler, and the internet was soon buzzing with Dangerfield's name. Unfortunately, due to a prior commitment to the UW Milwaukee School of Education, Scott decided to forgo Hollywood week and remain in Wisconsin to finish his college education. However, his brief appearance on Idol gained Crash County numerous followers around the globe who tuned in to their YouTube page every week to watch videos of Scott and the band performing original music and cover songs. Scott again auditioned for Idol's eleventh season and once more received a golden ticket. This time around, he was able to follow through and made it to the Top 42 round before being eliminated.
Crash County released their self-produced and self-recorded album "Home" in June 2012. Heavily influenced by artists old and new, Crash County's signature style blends heavy blues riffs with catchy melodies and blazing guitar solos into an album that is all their own. It is available through their online STORE (link), or digitally through ITUNES (link) and CD BABY (link). Crash County has played dozens of shows throughout Wisconsin, Illinois, and Michigan, and is most frequently booked in the Milwaukee area. They are currently hard at work on their second full-length record, which will be released sometime late in 2013.