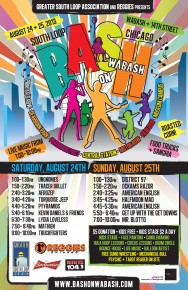 Bash On Wabash
This year marks the Ten Year Anniversary for the "Bash On Wabash" with the goal of bringing neighbors and businesses alike, from near and far, to a festival that showcases the beauty, creativity, history and culture of the South Loop.
Located in the heart of the neighborhood on Wabash Avenue between 13th Street and 14th Place, this years' "Bash on Wabash" promises to be an experience to remember!
Benefiting the Greater South Loop Association (GSLA) and a portion of proceeds to the South Loop Food Pantry, this lively, colorful festival will have something to offer everyone including a wide variety of musical acts, food and beverages (including beer and wine), arts & crafts, an elaborate children's area, vendor booths, and so much more!