Due to circumstances beyond our control, the BigKlit show scheduled to take place on Sunday, February 23, has been canceled. Tickets will be refunded via point of purchase. We apologize for any inconvenience this has caused.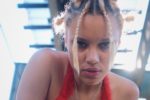 BIGKLIT
If you think you don't know BigKlit, you do. The abrasive pre-chorus to her hit song, "Liar," is nothing short of memorable — in fact, it's more like a slap in the face with a sucker punch to follow: "Fuck! You a pussy ass bitch/ Fuck you, your momma, and your kids!"
With a strong statement, tone, and attitude, the song quickly blew up on TikTok and has become one of the app's most popular trends so far in 2019. Now, BigKlit's ready for world domination.