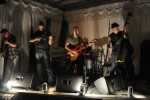 BLACK IRISH TEXAS
Emerging from the local cut-throat and highly competitive music scene of Austin, comes Black Irish Texas. And out of the proclaimed live music capital of the world they have exploded on the scene like a whiskey drenched force to be reckoned with. They have shared the stage with such International acts as Dropkick Murphys, Flogging Molly, Social Distortion, and the Street Dogs just to name a few, as well as local Austin legends such as the Dicks and the Flametrick Subs.
The band started in 2004 after a few lineup changes and many tribulations, they have managed to keep their anything-but-common spaghetti western/Americana/punk infused Irish American act together just long enough to finally release their debut album "To Hell with the King."
With backing from Jameson Irish whiskey and support from legions of local and regional fans they released their first full length album and have been running all over the country throwing their no holds barred Irish American party gaining devout followers everywhere they play.
Black Irish boast members of Austin favorite's such as Mr. Lewis and the Funeral Five, Flatcar Rattlers, Los Hispanos,UK, The Bulemics, and Hipsterectomy just to name a few. With members from each of those bands bringing to the table their own particular styles and influences, your current line-up of James Fitzsimmons on guitar and vocal duties, Mark Maughmer II on fiddle, James Sheeron on drums, Shannon McMillan on upright bass and Bil David Zarate on banjo, you are basically looking at a powder keg lit by a few shots of Jameson. And what a site it is.
Do not, I repeat, do NOT try and pigeonhole these guys as an Irish pub drinking band, regurgitating overheard covers of "danny boy" and "whiskey in the jar" . In high demand at every venue from Stubb's and Emo's Austin to the Abbey pub in Chicago, Black Irish Texas is a coming to a venue near you. See what they're doing at their website. www.blackirishtexas.com, and be on the look out for new releases roomered to release by the end of 2014..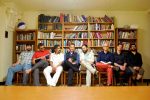 FURIOUS FRANK
Furious Frank performs a high energy gypsy-carnival rock that is neither traditional nor nostalgic, but instead a fresh fusion of familiar styles re-imagined for listeners demanding something new. Dance rhythms, grinding guitar riffs and soaring horn leads somehow combine to create an incomparable but irresistible sound. Sharing the stage with The Wailers and Buckwheat Zydeco, regularly compared to Tom Waits, Gogol Bordello and Manu Chao, the band defies simple description. But rest assured, they are far from subtle.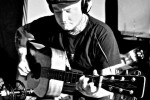 MIKEY CLASSIC & HIS LONESOME SPUR
Singer/Songwriter for The Goddamn Gallows solo Project, Stripped down Roots Punk