DJ Wizzard will be spinning after the live performances from 10:30pm-1am. $10 Cover or Free with paid entry from the earlier show.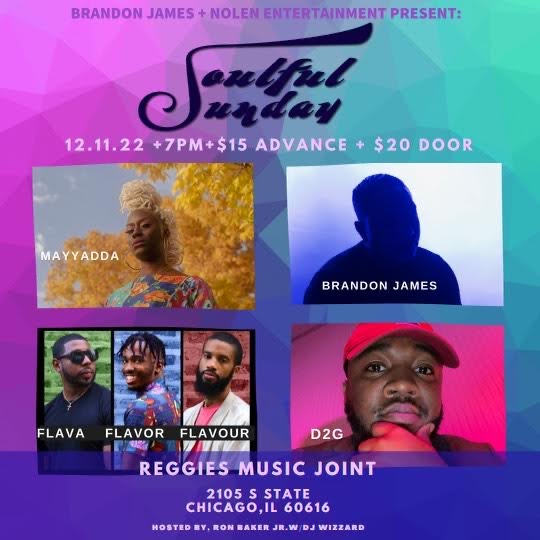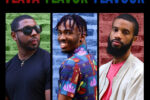 FLAVA FLAVOR FLAVOUR¡!
​Chicago based improv team featuring Tyshawn Chrisp, Warren Stokes and Jason Tolliver.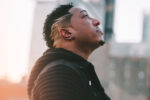 BRANDON JAMES
Brandon James is a Chicago based powerhouse vocalist that is not only sultry, but grips you with waves of raw emotions featuring a contemporary soul and R&B Pop sound. Exposing you to tingles of both Stevie Wonder & John Legend, he leaves his own mark with unforgettable performances at venues such as UIC Pavilion, House of Blues, Reggies and HVAC where he's opened up for acts such as Ryan Leslie, Method Man, Ghost Face, Bubba Sparks & the iconic Earth Wind & Fire.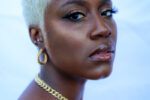 MAYYADDA
Mayyadda is a singer, songwriter, multi-instrumentalist and producer from Minneapolis who aspires to use her music to make people slow down, find themselves in another perspective, and feel their way towards individual and collective healing. With an eclectic mix of neo-soul vocals, folksy guitar, pop-style piano with trap beats sprinkled in for flavor, she likes to refer to her genre as, "BlackGirlMagic." She has been active as a recording artist since 2015, releasing four projects since then: most recently, TRY&REMEMBER, a sonic journey thru the risks one takes on their way to healing, which she released in October 2021.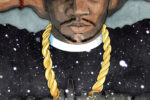 D2G
Anthony Di'Angelo Ingram, Jr. or "D2G" as he's called in the Hip-Hop scene, is a laborer in music all around. Growing up on the southeast side of Chicago, 2G would always relate any life situation to a song that would describe his emotion at the time. Inspired by artists like Rakim, KRS-One, and Slick Rick, he began writing at age 11 and would later transform his writings into songs. Graduating from Hyde Park Academy in 2005, he would find himself enrolled into Columbia College Chicago, where he became fascinated by the artistic environment. This atmosphere would later introduce 2G to various artists and producers.
A focused emcee in his own right, D2G seeks to bring glory back to his hometown of Chicago and earn his rightful place among hip-hop's elite. Since releasing his first solo project in 2011, The Blood Diamond Tape, and his first album in 2013, July 9th: A Cancer Story, D2G has been performing and promoting his music across the city. He is currently gearing up for the release of his sophomore album, Short Summers Long Winters, a project guaranteed to solidify him as rising royalty in Chicago's underground scene.