CORBIN MARSH
Corbin Marsh has been stomping out country blues across the United States for only the better half of a decade, but at just 26 years old, he has the voice and playing style one would expect from a seasoned veteran. Channeling legends like Son House, Lightnin' Hopkins and contemporary inspirations like Justin Townes Earle and Lucinda Williams, Marsh pens timeless ballads of death, deception and barroom laments of love lost.
In November of 2010, Corbin joined blues guitar veteran Mike Flynn and longtime collaborator Chris Lee on drums to form Corbin Marsh Band. Joined later by Jeff Stritholdt of Makebelieves' fame on bass, the group brought explosive and dynamic energy to Marsh's tunes. The  group also breathes new life to century old traditionals and blues songs by Robert Johnson, Elizabeth Cotten and others. In July of 2012, they released their first official EP, "Wheel Spinning 'Round."
THE BEESON BROTHERS
A culmination of high energy blues, rock and funk music is what The Beeson Brothers bring to the stage. Enjoy deep driving bass lines, powerful drum rhythms, soulful organ & keys and cutting guitar lines with raw blues lyrics. The band thrives off of live performances and has been making itself a regular showcase in the midwest. Based out of Champaign, Illinois the band consists of four brothers that hail from the northern suburbs of Chicago. Ryne Beeson plays guitar and sings lead vocals, Myles Beeson is on drums and percussion, Drew Beeson can be found on keys, guitar, and vocals, and Callan Beeson is on bass, harmonica and vocals. Drawing from many past and modern influences, including genres of world music for their creative inspiration, the brothers have been writing and are preparing to lay down some original tracks in the coming months. Check out the bands website and online sources for more info on the brothers and an updated schedule of shows.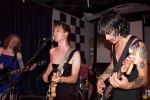 SHILOH
A six and sometimes seven piece of people who enjoy playing American music. Midwestern boys making midwestern noise.