Due to unforeseen delays around obtaining VISAs D-Block Europe will have to postpone their upcoming North American Tour. They are working to reschedule the tour and will come back with new dates shortly. All tickets for this tour will be honored for the new dates and refunds are available at point of purchase. DBE looks forward to seeing their fans soon and appreciate your understanding!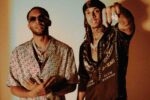 D-BLOCK EUROPE
Platinum-selling South London collective D-Block Europe announce their highly-anticipated album, Lap 5, along with the release of their brand new single, 'Fantasy'.
A summer anthem in waiting, 'Fantasy' arrives with a William Thomas-directed visual, displaying Young Adz and Dirtbike LB venturing into a high-spirited trance, enjoying the entertaining atmosphere.
Dropping on 16th September, Lap 5 magnifies D-Block Europe's meteoric rise as they set their sights on global domination. Consistent in carving their own lane, Lap 5 is a celebration of the last five summers. Their upcoming record is the pinnacle of Young Adz and Dirtbike LB's distinctive artistry and compelling penmanship. It will include previous servings, 'Black Beatles' and 'Elegant & Gang', both permanent fixtures in the Official Singles Chart, alongside a wealth of brand new material.