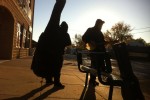 THE DEVIL'S CUT
The Devil's Cut is Punk/Americana band from Lansing, Michigan. Born of the copper-stripped industrial wasteland of central Michigan, the six piece act plays driving roots rock from a working class punk perspective.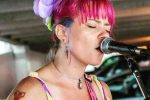 WONKY TONK
By IndieMinded:
Stuff We Leave Behind by Wonky Tonk.
Kentucky based singer-songwriter Jasmine "Wonky Tonk" Poole, is an artist who is never afraid to put it all out there and leave a piece of herself behind. As a young girl, she was told that "Cowgirls get up in the morning, decide what to do and do it." With a sound that touches on folk, Americana, country, and bluegrass, all anchored by a touch of honky tonk and propelled by her punk attitude, Poole clearly took that advice to heart and applied it to her music. Described as falling somewhere between First Aid Kit, Modest Mouse and Tune Yards, and with influences such as Loretta Lynn, Poole paves her own creative path on her LP release, Stuff We Leave Behind, available now.