Reggies "Made in America" series is proud to present an intimate solo acoustic evening with Devon Allman! His debut solo album "Turquoise" will be released on Ruf Records February 12, 2013, don't miss this rare chance to hear him perform songs from the album before it is released.
Billy Branch will join Devon during one of his sets as a special guest!
"Dinner with Devon" will be a special option offered! Ticket holders will enjoy a meal from Devon's own recipes as well as a chance to hear him discuss his cooking and his new hot sauce from Born to Hula "Chipotle Blues", before enjoying Devon perform his acoustic solo set in our intimate Music Joint. Choose either the "Steak Daddy" or "Mojo Chicken Tacos" as your meal. Dessert courtesy will feature fried bananas with caramel sauce.
General admission tickets without dinner are available as well.
Sponsored by Hennessy and Grand Marnier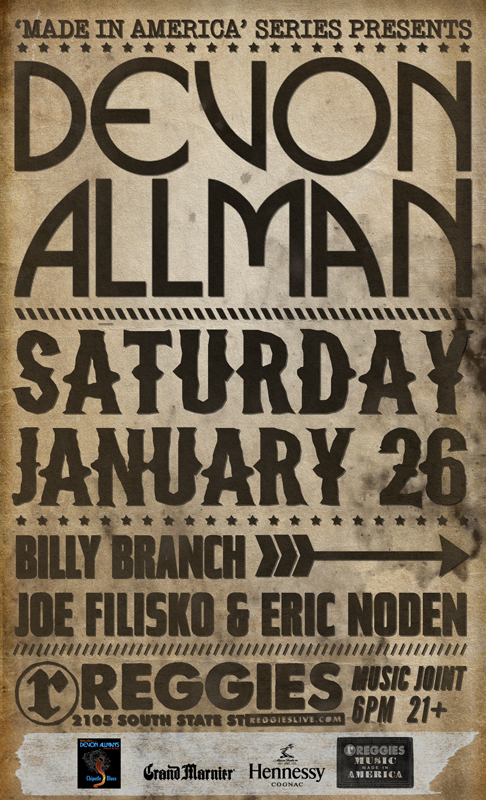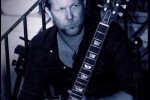 DEVON ALLMAN BAND
Ruf Records announces the signing of guitarist/singer Devon Allman and a February 12, 2013, release date for his debut solo album, Turquoise. Ruf Records is distributed in the U.S. by the Allegro Corporation. Turquoise was produced and mixed by multi-Grammy winner Jim Gaines and recorded at his Bessie Blue Studios in Stantonville, Tennessee, as well as at Ardent Studios in Memphis. Devon Allman (vocals and guitars) is joined on the new CD in a core trio set-up that features his fellow Royal Southern Brotherhood bandmate Yonrico Scott (drums and percussion), as well as Myles Weeks (upright and electric bass). Special guests include Luther Dickinson (guitar),Samantha Fish (vocals), Ron Holloway (sax), Bobby Schneck Jr. (guitar) and Rick Steff (Hammond B3 organ).
Devon Allman is a member of Royal Sothern Brotherhood, the Ruf Records band he formed along with Cyril Neville (percussion and vocals), Mike Zito (guitar and vocals), Charlie Wooton (bass) and Yonrico Scott (drums). The group's debut self-titled CD was released in May and has been in the Top 15 on the Billboard blues chart for six months, also generating extensive radio airplay and rave critical reviews from the press.
Turquoise is loaded with very personal, honest and powerful tunes in its 11-track song list. In "Turn Off the World," one of Devon's most insightful compositions on the new CD, he asks to go where he can "wash off this rock and roll" so that he can cleanse his soul to start anew and refresh his mind after spending so much time on the road. There is, naturally, a road song ("Homesick") but also a more emotionally direct lyricism at work on this new CD than at any point before in his career, with songs about walking into darkness, loving to the end, finding peace or escaping the now through a time machine. He demonstrates his affinity for Latin and African music on the rhythmic "There's No Time" (co-written by rising star guitarist Tyler Stokes), creates a big sound with modest tools on the sing-a-long "When I Left Home" (with guest Luther Dickinson adding some slinky lead and slide guitar), and pares down to the quietest of places on the lovely "Yadira's Lullaby" (which recalls his late uncle Duane's acoustic guitar on the classic "Little Martha"), Turquoise represents some of the finest work in Allman's career thus far, engaging in its scope and thrilling in its execution. This is an album of reflection of Devon's past life and it's the stories that only he can tell. "These songs are very special to me," says Allman. "It's part 'dusty road driving music' and part 'tropical getaway' music. These are the stories, feelings and reflections from my last couple of decades of forging my musical path." The 10 originals on Turquoise include two co-written with RSB brother Mike Zito, plus a blazing version of Tom Petty's "Stop Draggin' My Heart Around" that really rocks, courtesy of some righteous vocals by Devon and special guest Samantha Fish.
Currently based in St. Louis, Devon Allman was born in Corpus Christi, Texas, where he grew up surrounded by a humble life along with his mother. His first love affair with music came at a young age, eventually becoming a spiritual calling that wouldn't stop. It wasn't long before he and his guitar joined bands, and in 1999 Devon formed his Southern rock jam band, Honeytribe. While his breakthrough into the music industry may have been blunted by his choice not to use his illustrious surname, it served the purpose of his having to avoid the burden of the barrage of questions about his famous father that even he was unsure of how to answer. It was when Honeytribe began to release CDs and tour nationally that interviews slowly began to trickle out that Devon was the son of one of the biggest names in rock music. Today, he embraces who he is and where he's been, knowing that he has paved his own way to Turquoise.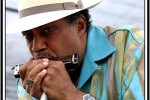 BILLY BRANCH
(special guest appearance)
Billy Branch has followed a very non-traditional path to the blues. Unlike many blues artists, he isn't from the South. Billy was born in Chicago in 1951 and was raised in Los Angeles. He first picked up a harmonica at the age of ten and immediately began to play simple tunes.
Billy returned to Chicago in the summer of '69 and graduated from the University of Illinois with a degree in political science. It was during these years that he was introduced to the Blues. He soon became immersed in the local blues scene. He spent a great deal of time at legendary blues clubs such as: Queen Bee's and Theresa's Lounge; he learned from such stalwart harmonica players like: Big Walter Horton, James Cotton, Junior Wells and Carey Bell.
His big break came in 1975 during a harmonica battle when he beat Chicago legend, Little Mac Simmons at the Green Bunny Club. He made his first recording for Barrelhouse Records and began to work as an apprentice harp player in Willie Dixon's Chicago Blues All-Stars. He eventually replaced Carey Bell and worked with Willie Dixon for six years.
During this time, Billy formed the Sons Of Blues (S.O.B.s) featuring musicians who where the sons of famous blues artists. The original S.O.B.s consisted of Billy, Lurrie Bell, Freddie Dixon and Garland Whiteside. They toured Europe and played at the Berlin Jazz Festival. Shortly afterward, they recorded for Alligator Record's Grammy-nominated Living Chicago Blues sessions, and Billy has been a regular studio player appearing on over fifty albums.
Billy has recorded and/or performed with an incredible list of Blues legends including: Muddy Waters, Big Walter Horton, Son Seals, Lonnie Brooks, Koko Taylor, Johnny Winter, and Albert King. In 1990, he appeared with three harp legends:Carey Bell, Junior Wells, and James Cotton on W.C Handy Award winner, Harp Attack! His most recent recordings for the Polygram label are entitled The Blues Keep Following Me Around and Satisfy Me.
Billy is also passing on the blues tradition to a new generation through his Blues In The Schools program. He is a dedicated blues educator and has taught in the Chicago school system for over twenty years as part of the Urban Gateways Project. In 1996, some of his finest students opened the Main Stage at the Chicago Blues Festival which was broadcast throughout the U.S. on National Public Radio.
Blues producer, Chicago Beau has written, "Billy Branch has become a beacon, and model for his times; as an artist, and social/cutural activist… Billy Branch is a Bluesman; Billy Branch is the Blues."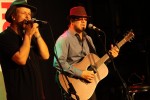 JOE FILISKO & ERIC NODEN
The blues and roots music duo— Joe Filisko and Eric Noden make an unforgettable impression. Their jaw-dropping virtuosity enables them to create more layers of sound and feeling than most full bands can summon, and both are high-energy, ultra-rhythmic performers. The collective result— in both their live shows and their recordings— are charged, dramatic performances that are simultaneously powerful and sophisticatedly subtle.
"Two marvelous musicians who have captured not only the sounds but the emotional spirit of some of the richest bloodlines of American music." — Kim Field, author of Harmonicas, Harps, and Heavy Breathers
"Joe Filisko and Eric Noden make a thoroughly convincing case that this music is the real deal and their spirited performances make it sound both fresh and contemporary." –Dirty Linen
"Eric and Joe are possessed by the spirits of Howlin Wolf, Sonny Terry, Robert Johnson, Johnny Woods, Sonny Boy Williamson, Gwen Foster and transported listeners back to the 1920′s Delta.. We love Eric and Joe. Please send them back.
 —–Mickey Raphael, harmonica player for Willie Nelson
Just a few short years after their first meeting, Filisko and Noden are displaying their compelling musicality on the world stage. They've performed at the legendary Chicago Blues Festival, the Paramount Blues Festival in Grafton, Wisconsin (where some of the greatest of the early blues recordings were made); Sweden's Eslov Blues Festival; and the Festival Ecaussines in Belgium. The duo also recorded the theme song for the "Sweet Folk Chicago" on the legendary Chicago radio station WFMT. Joe and Eric are expert practitioners of harmonica and guitar styles that defined the blues in its earliest days but are now all too rarely heard. Both of these standout performers also teach and make it a point to share the insights they've gained from two lifetimes of deep research into the history of the music. For several years the city of Trossingen, Germany—the home of the Hohner harmonica company—has invited Filisko and Noden to conduct master workshops, and the pair has also offered joint workshops and performances at Australia's Playmakers Festival, the Harmonicales Festival in France, and at the Old Town School of Folk Music in Chicago.
"Dinner with Devon" tickets
$35 Advance ticket includes Dinner with Devon Allman and concert admission. Day of show Dinner package ticket is $40.