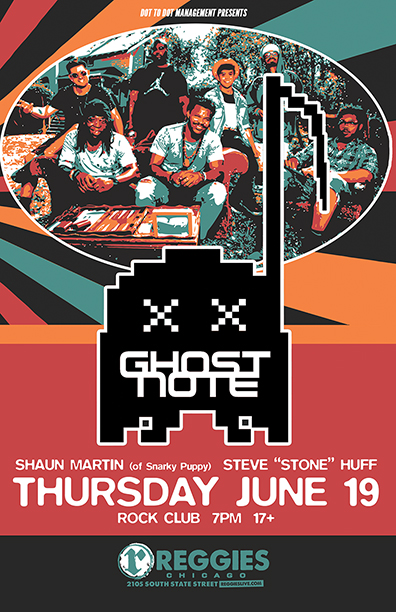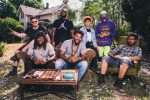 GHOST-NOTE
Multi-Grammy Award winning artists Robert Sput Searight and Nate Werth take percussion out of the shadows and into the spotlight with their new project, Ghost-Note. World renown for their ongoing catalog with international sensation Snarky Puppy, this dynamic duo expands their rhythmical voice into a celebration of music in all its forms. This is music that takes listeners on a mind-blowing journey, inspired by the influences of James Brown, Prince, and J Dilla to name a few.
Since forming, Ghost-Note's sound has evolved to a state that can best be described as 'conscious funk' – an elaborate and sonically powerful surge of the tremendous talents that each of the players provides, with the bandleaders leaning back and letting the band go. The core lineup is a rotating cast of heavy hitters – all stretching to meet the expanding nature of the band. The explosive rhythm fueled band, deeply rooted in neck breaking funk, is comprised of the industry's best and quickly becoming one of the most anticipated live shows of today.
Band members include A.J. Brown (Fred Hammond) on bass, internet star Dywane "MonoNeon" Thomas (Prince) on bass & guitar, Sylvester Onyejiaka (Prince, Quantic) baritone sax, tenor sax, & flute, Xavier Taplin (Prince) on keyboards, Jonathan Mones (Funky Knuckles, RC and the Gritz) on alto sax & flute, Mike Jelani Brooks (Kirk Franklin, RC & the Gritz) on tenor saxophone & flute, Justin Stanton (Snarky Puppy) on keyboards, Vaughn "V-keys" Henry on keyboards, Daniel Jones (Jay-Z, Janet Jackson, Justin Timberlake) on keyboards, Nick Werth (Galaxe, Yak Attack) on xylosynth, and Alvin Ford Jr. (Pretty Lights, Dumpstaphunk) on drums.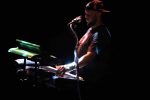 SHAUN MARTIN
(of Snarky Puppy)
Seven years ago Shaun began a project of his own. A story of his life, a contribution to the world of music from his eyes (and ears). In demand by many, Shaun took his time with the album as the story expanded to include a wider range of experience. And so, on July 7 we present to you SEVEN SUMMERS – a big chapter in the history of the great Shaun Martin. Seven Years. Seven Summers. Seven Seven.
Seven Summers is an album that was clearly well thought out; a refreshing feel in today's world of instant production.
"I'd say that 7 Summers is a chronicle of growth in character and perspective. As I grew over the last seven years, I experienced so much and I wanted to translate that through the music and lyrics…." (Shaun Martin)