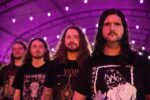 HORSEBURNER
Stoner metal. Sludge. Doom. Call it what you will, Parkersburg, West Virginia's Horseburner creates riff-heavy rock n' roll to shake your insides.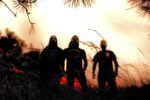 RESTLESS SPIRIT
With one album and four EPs under their belt, RESTLESS SPIRIT has been carving a path of their own in the underground US metal scene. While the band claims influences as wide as Black Sabbath, Type O Negative and The Sword, there is no shortage of ferocious riffs and indelible hooks to be found in their music. Though they fit right in with the doom and stoner rock scene, the band trades a strict diet of fuzz for a more varied, melodic approach.
On the follow-up to 'Lord of the New Depression' (2019), the trio finds themselves experimenting and adding a cohesive narrative throughout a towering 39-minute of pummeling heavy, written over the course of a month in a rehearsal space in their hometown of Long Island, New York. Featuring brooding artwork from famed painter Frank Frazetta, 'Blood of the Old Gods' weaves grandiose sonic landscape and haunting atmospheres to be remembered.
– Claire Bernadet