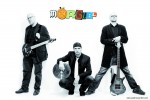 Mörglbl
Before they even had a name, a charming young girl called to book the band for their very first show. M-O-R-G-L-B-L were the first letters to come to mind.
Led by guitarist extraordinaire Christophe Godin and anchored by the phenomenal Ivan Rougny on bass, Mörglbl gained international acclaim through their first two albums in 1997 and 1998. Years of extensive touring saw the band's reputation grow until a break was needed. But in 2007 Mörglbl came roaring back with their 3rd critically acclaimed album, Grötesk. Drummer Aurélien Ouzoulias joined Mörglbl in 2008 bringing a new kick to the band's music. Mörglbl's live performances are a crazy mix of jazzy moods, fat, funky grooves and substantial chunks of metal all served up with a Zappa-like humor. Some describe it as Primus meeting Steve Vai. Mörglbl hits like a heavyweight jab and makes you laugh while you bleed. Seat belts are optional, but highly recommended.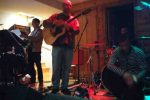 THE DEVIL'S STAIRCASE
Want to hear what Fractal Geometry, Chaos and Non-linear physics sound like when the mathematics becomes music? Climb the Devil's Staircase…Made up of Ramsés Luna (Saxophone, Midi Wind, Electronics)
Tim McCaskey (Electric and Acoustic Guitars)
Luis Nasser (Bass, Pedals, Holophonics)
Mattias Olsson (Drums, Percussion, Loops)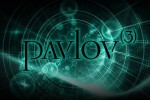 PAVLOV3
Pavlov(3) began as Touch Guitarist and Chapman Stick player Matt Tate's mechanism of musical expression. Aggressive Progressive. Since 2014, Pavlov(3) has existed as a duo, trio, quintet, and sextet, and now, at least for the time being, morphed back into a duo.
"Curvature-Induced Symmetry… Breaking" is the debut album. Long overdue, and after a good old-fashioned re-degeneration and protracted coma, an expansive and semi-bigly batch of aggressive and excessive new sonorous ebullience is being frantically created and furtively cultivated into an impending hemorrhage and glorious whatnot of audiation.
Pavlov(3) has shared stages and bills with the likes of John Zorn's Bladerunner (w/ Laswell + Lombardo) and Simulacrum (w/ Medeski, Grohowski, Hollenberg), John 5, Secret Chiefs 3, Cleric, Sonar, Kayo Dot, Renaissance, Progtoberfest 1+2…
Matt Tate: U8 Touch Guitar
Nick: Drums