Tentative Music Schedule. Dates and Times are subject to change.
Noon-1:00pm: Frogg Cafe
1:30pm-3:15pm: ABACAB- The Music Of Genesis
3:45pm-4:45pm: Wave Mechanics Union
5:15pm-6:45pm: CAST
7:15pm-9:00pm: Mike Keneally & BFD
9:30pm-11:00pm: Karmakanic
11:30pm-1:00am: The Tangent
Meet & Greet Schedule: VIP ONLY
Friday:
6:30pm: Echoes of Giants, Sons of Ra, District 97, In the Presence of Wolves, Dave Kerzner Band
8:30pm: Conscious Pilot, Five of the Eyes, AISLES, Alphonso Johnson Band, Schooltree
Saturday:
2pm: The Pneumatic Transit, King Llama, Frogg Café, CAST
4pm: The Renegades, ABACAB, Mike Keneally Band
5pm: Joe Deninzon & Stratospheerius, Wave Mechanics Union
7:30pm: Karmakanic, The Tangent, Necromonkey, Bruce Soord
Sunday:
2pm: NEW, EYE, Agori Tribe, School of Rock
4pm: Kinetic Element, Discipline, Amalgam Effect, Chicago Zappa Collective
5pm: Thank You Scientist, Progger, Moulder, Gray & Wertico
7pm: Martin Barre, Lost World Band, Don & Bunk Show & Special Guests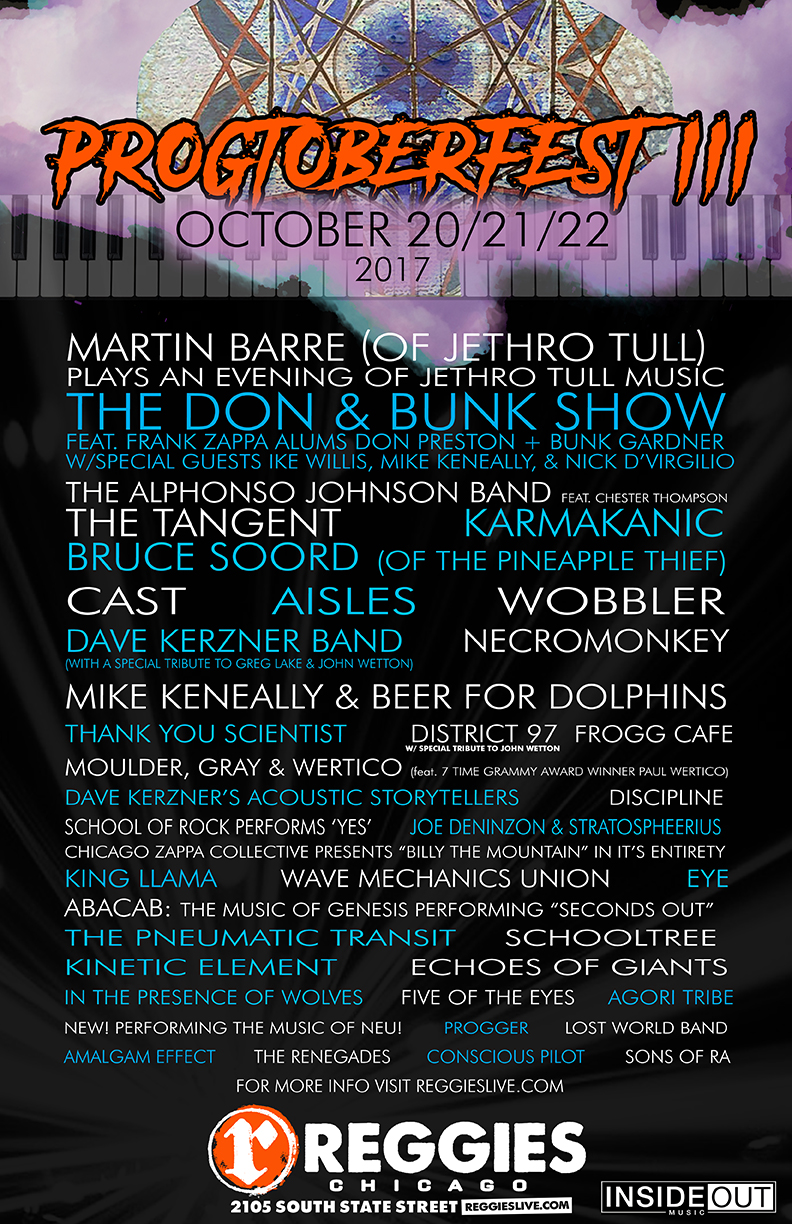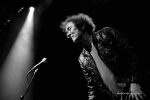 THE TANGENT
The Tangent is a Progressive Rock Band from Northern England. based around keyboards player, composer and idiosyncratic vocalist Andy Tillison Diskdrive. Their music is cinematic and lyrical, full of narrative, often telling stories or making observations about the world we live in – often choosing subject matter more associated with Anarcho-Punk bands than with the genre in which the band choose to base themselves. "No Hobbits or Orcs in our songs" The band have, for 12 years now, released a steady output of well regarded albums through their record label Insideout Music At the time of writing, the band's eighth studio album "A Spark In The Aether" is just weeks away from release…..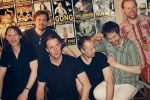 KARMAKANIC
Karmakanic kicked off their career in 2002, and now, 14 years, four studio albums and two live albums later, they are back with their fifth full-length album, DOT.
The band's founder, bassist Jonas Reingold says: "I got my inspiration to start writing DOT when I stumbled upon a text by the famous American author and astronomer Carl Sagan. He was talking about how small and insignificant we are in this vast universe.
Of course that can sound like a cliché and a lot of things have been said about our existence, universe, why are we here, where are we going, when will it end, when did it start, whats the purpose of it all? And so on. But he put it really elegantly in this rather short text, so I never looked at it as a cliché. The inspiration for him was actually a picture of the earth that Voyager 1 took 1990 from the outer areas of our solar system. The earth appeared in the picture as a small pixel, like a pale blue dot suspended in a sunbeam."
"Look again at that dot. That's here. That's home. That's us. On it everyone you love, everyone you know, everyone you ever heard of, every human being who ever was, lived out their lives. The aggregate of our joy and suffering, thousands of confident religions, ideologies, and economic doctrines, every hunter and forager, every hero and coward, every creator and destroyer of civilization, every king and peasant, every young couple in love, every mother and father, hopeful child, inventor and explorer, every teacher of morals, every corrupt politician, every 'superstar,' every 'supreme leader,' every saint and sinner in the history of our species lived there–on a mote of dust suspended in a sunbeam." – Carl Sagan
"It´s fascinating to think that this little dot is all we are and all we´ll ever be," says Reingold. "It gives us perspective. And I think perspective is a great tool for making good choices. Honestly, is it worth fighting over country borders, go to war, choose hate instead of love when you look at life from this perspective? So I decided to write a song about it: 'God – the universe and everything else no one really cares about'."
This song, presented in two parts, forms the centerpiece of DOT and clocks in just shy of 30 minutes' total playing time. Other songs are the short rocker "Steer by the Stars," co-written with Jonas's old buddy and colleague from The Tangent, Andy Tillison. Andy also contributes with some roaring Hammond organ on the aforementioned 30-minute epic.
Also featured on the album is "Higher Ground," a "mini epic" where Jonas writes about his upbringing and the good and bad off growing up in a small Swedish town; and "Traveling Minds," a majestic symphonic piece that brings us back to the vibe of the Yes classic "And You and I."
Karmakanic 2016 includes prominent members such as Morgan Ågren, a Grammy-winning musician on both sides of the Atlantic and known from his work with Frank Zappa, Kaipa, Steve Vai, Tony Iommy, Terry Bozzio, and was voted No. 1 in Modern Drummer's Readers Poll in 2010.
Göran Edman worked with Swedish stringbender Yngwie Malmsteen between 1990-1992, touring the world and recorded the album Fire and Ice and Eclipse.
Lalle Larsson is a leading star on the Progressive Rock scene, having recorded with artists such as Agents of Mercy, Jon Anderson, Gary Willis, and Randy Brecker. He has also released three albums with his own Lalle Larsson´s Weaveworld.
Binding together this fine cast of performers is the artwork of the legendary Hugh Syme, known best for his work on so many of those classic Rush album layouts. With Syme's unique approach, the current Karmakanic circle is complete.
DOT was mixed and produced by Jonas Reingold, guaranteeing a solid and extremely detailed sonic picture.
As a treat for the fans who pick up the limited edition, there will be over 2 hours and 20 minutes of DVD material, including The Making Of Dot, Karmakanic Live in the US and Interviews with various band members.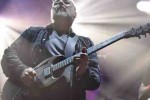 MIKE KENEALLY & BEER FOR DOLPHINS
Hello, I'm Mike Keneally, writing things about myself. What's happening with you? You good?
Here are a few words about my life in music. I appreciate you reading them, if in fact you do:
I started playing keyboard when I was seven, when my parents gave me an electronic organ for Christmas. It was a total box of magic to me. For my eleventh birthday I got a guitar and that was a whole different kind of beast, one that I loved just as much. I played both instruments obsessively while I was growing up.
I loved The Beatles, too, to an unreasonable degree, starting when I was five years old, and over time that love extended to (I'm writing a list now) Frank Zappa, ELP, Alice Cooper, The Rolling Stones, Steely Dan, Todd Rundgren, Stevie Wonder, Yes, The Beach Boys, Henry Cow, Joni Mitchell, Gentle Giant, Sly Stone, The Residents, Miles Davis, John Coltrane, Steve Reich, XTC, Radiohead and a million other incredible people. They Might Be Giants too, they've done some unbelievable stuff. Beefheart obviously. Thelonious Monk, sheesh. Laurie Anderson is badass too. Crimson! And Tull! Let's talk Thomas Dolby and Leonard Bernstein for a second! All of those influences and countless others have found their way into my music; music which, I hope, doesn't really sound like any of it.
I was a weird kid, and I slowly learned to adapt in different circumstances, except when I didn't. To the extent that I did, this came in handy when I was 25 years old, in late 1987, and got hired to play guitar and keyboard with Frank Zappa, my ultimate musical hero when I was growing up. It was also my first real professional gig as a musician, and it came with a lot of hard and fast learning, or not. It was a mind-blowing experience in every way, literally a dream come true, but also far more than that. I feel the repercussions every day.
(Just a sec. I'm veering off-narrative here, but do you see over there where it says I'm the leading progressive-rock genius etc.? [Bill Meredith wrote that by the way, thank you Bill!] Anyway, is that really true? What do you guys think? Tell you what, I'll count to three, and then you all yell out what you think about it. One. Two! THREE! Hey, I couldn't hear anything!)
Back to my life story here. It took me a while to recover after the Zappa tour, and decide on a next step, but as the 90s got underway I eventually got a solo career going (while also working with Frank's sons in the group Z, and then playing in Steve Vai's band for six years. Both extremely fun and educational experiences). Some friends of mine (Jeff and Suzanne Forrest, thank you!) in San Diego started a label, and I signed with Immune Records and did eight audio or video projects with them from 1992 to 1998 – this was when I did hat., Boil That Dust Speck and Sluggo! as well as other titles. Then my pal Scott Chatfield and I formed Exowax Recordings in 1999, and starting with the instrumental one-man-band album Nonkertompf we unleashed another twenty or so Keneally releases, including regular albums, EPs, limited editions with DVDs or bonus albums, etc. Exowax merrily continues pumping out delicious audio for you, to this very freakin' day.
I started playing live with my own bands a lot in the late 90s, playing insanely intricate stuff, improvising a lot and doing a lot of crazy things onstage, but not quite settling into a jam band scene, or a fusion scene, or an alternative scene, or a prog scene, but (I guess?) combining something of all of that, without ever attempting to do anything specific genre-wise at all; I just keep trying to make music that I enjoy hearing. Add in the energy we get from the many varied and wonderful music-lovers we've played for around the world, and it's all been an extraordinary thing for me to be a part of. I'm endlessly grateful to all the musicians who've played my music through they years, and to all the people who've enjoyed it.
Sometime around 2000 I started occasionally seeing brown triangles, giving me musical instruction according to some arcane outerplanetary notational system. This would happen, sometimes, when I was playing guitar onstage with my eyes closed. After a couple of years, it stopped. I think it helped my playing for good, and I enjoyed it a lot.
In 2006 I started writing songs with Andy Partridge, former leader of XTC and songwriting hero of mine. Six years later, I put out an album called Wing Beat Fantastic: Songs Written By Mike Keneally & Andy Partridge. Working with Andy was another fairly unbelievable dream come true for me, similar to working with Zappa in terms of the impact these gentlemen have had on my life.
This album and other recent albums of mine have been recorded at Scott Chatfield's studio Chatfield Manor, with ace engineer Mike Harris a constant co-conspirator. Every moment it's possible for me to be working on music here, I do my best to take it. I love making albums. It's an addiction.
Recent releases include Scambot 1 (part one of an epic ongoing saga; Scambot 2 is presently in the works); Evidence of Humanity with drummer Marco Minnemann; and a live DVD/CD set of the Mike Keneally Band, called bakin' @ the potato! Here's a video from bakin': youtube.
Largely thanks to the kind patronage of Co de Kloet at NTR Music in the Netherlands, I've also written some orchestral pieces (sometimes with myself as guitar soloist); the most notable is the 52-minute suite The Universe Will Provide, recorded with Holland's Metropole Orkest and released by NPS Music/Favored Nations in 2003. No other musical experience compares to playing live with an orchestra. For an electric guitarist it's a real challenge to create the proper space as a soloist, without become overwhelming with volume, and finding a dynamic which feels of a piece with the orchestration. I'd love to do more of it and continue refining the process.
My new album on Exowax Recordings is You Must Be This Tall. It's one of my crazier releases; mostly instrumental, although there are a few key vocal tracks on it. In a way it might be my most focused and ambitious album yet; it's a 12-song, 44-minute rocket blast of punchy experimentalism with a lot of melodic and harmonic depth to it, if I do freaking say so. I'm not impressed with myself, you understand, but I'm totally happy with this album.
I also work a lot nowadays as a member of Joe Satriani's band, and that is really hugely fun. And I play death metal, along with Brendon Small, as a guitarist in the live band Dethklok (originated in cartoon form on the [adult swim] TV program Metalocalypse. We, the human band, play the death metal live, while the cartoon Dethklok is in rhythmic sync with us, on a huge LED screen above the stage. People go nuts. It is incredibly fun).
Looking at all of it in one place, it's a strange career I have, but it's been more fun than a basket of warm aardvarks in the springtime.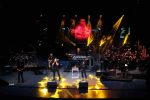 CAST
La banda de rock progresivo mexicana, nace en 1978 por inquietud del actual miembro y fundador Alfonso Vidales; inspirado por la idea de crear música mezclando pasajes sinfónicos con el rock progresivo.
MIEMBROS ACTUALES: ALFONSO VIDALES (teclado), ANTONIO BRINGAS (batería), CLAUDIO CORDERO (guitarra), BOBBY VIDALES (voz), LUPITA ACUÑA (voz), ROBERTO IZZO (violín), CARLOS HUMARAN (bajo). 
WAVE MECHANICS UNION
Eight years ago, a couple of arrangers-for-hire decided, for a change, to hire themselves instead. Refreshingly freed from the constraints of client expectations, but now dauntingly faced with an endless spectrum of possibilities, they whittled it all down and focused on revisiting, as jazz arrangements, some of their favorites from the genre known as "Progressive Rock." They felt an abiding affinity with the bold, adventurous pioneers of the 60's and 70's – musicians who eschewed boundaries and wanted to cut loose and show the world what was possible on their instruments when social dancing was no longer the driving imperative.

As arrangers, this fledgling cabal wanted the same thrill – to express ideas and techniques, accumulated over the years, that they'd rarely had the opportunity to exploit in the course of their work.

They invited some monstrously talented, like-minded friends to share in the creation/performance/recording of said artifacts, and Wave Mechanics Union was born. 

Along the way, the nascent collective mutated and grew to embrace a wider palette of sounds, styles, and songs – as much as they loved Prog and Classic rock, there was more stuff out there calling to them and their creative impulses. So the paradigm evolved, as paradigms do. Perhaps it would be best described, now, as "we think these tunes are cool. How 'bout you?" 

When you let your mind roam freely, the pigeon-hole genre labels get harder to apply. Is this "jazz?" Well, that depends how you define it, if defining it is even necessary. It's music, rendered with love. let's leave it at that. 

The men and women of Wave Mechanics Union invite you to peruse and enjoy Volume II, "Further to Fly", and hope you'll find the same joy in listening that we felt working with some great music – arranging, playing, singing, and recording as our OWN clients. 

September 2012. RF, RVJ, LM, & JFK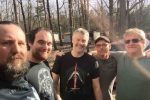 ABACAB- THE MUSIC OF GENESIS
Formed in July 2015 by five well-seasoned musicians in the Charlotte NC metro area, ABACAB is comprised of vocalist/multi instrumentalist Pete Lents, bassist/rh
ythm guitarist Cliff Stankiewicz, keyboardist Patrick Raymaker, lead guitarist/bassist Ryan Richard and drummer Jefferson Nunnery. We came together with a common goal…Pay loving tribute to one of the most iconic bands of the 20th century, and bring their music back to the stage where it belongs… From progressive rock pioneers of the 70's, to pop stadium rock icons of the 80's, to the multi platinum solo careers…This is the music of GENESIS.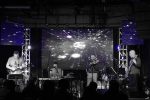 FROGG CAFE
Frogg Cafe is a 5 piece band from the New York metropolitan area making music that incorporates elements of Zappa-esque progressive rock, pop melodicism and fusion jazz. Frogg Café's music is also peppered with an appealing variety of other flavors including latin music, bluegrass, modern chamber music and avant-garde/experimental. Their energetic live shows feature extended flights of group improvisation that would draw grins from any hardcore jam-band fan.
The members of this unique group are Nick Lieto (lead vocals, keyboards, trumpet, flugelhorn), Steve Uh (guitars, violin, vocals), Bill Ayasse (electric violin, mandolin, vocals), Andrew Sussman (bass, cello, vocals), John Lieto (trombone) and James Guarnieri (drums). Frogg Café studio albums also exploit the considerable talents of a regular supporting cast of guest musicians, who supply trombone, marimba, flute, and additional percussion to their colorful and highly textured arrangements.
All of the members of Frogg Cafe are university trained in music composition and performance and this education and experience is quite evident in their mature compositions, prowess on multiple instruments and wildly entertaining live performances. Frogg Cafe started out life in 1998 as band called Lumpy Gravy, performing the music of their hero, Frank Zappa. In 2000, the band changed its name to Frogg Cafe and started to write and perform original music. 
VIP Tickets
1-Day VIP: $100 Includes admission for One Day plus Meet & Greets, BBQ buffet, Poster
VIP Tickets
3-Day VIP: $210 Includes admission for 3 Days plus Meet & Greets, BBQ buffet, Poster
VIP Tickets
3-Day Seated VIP: $310 Includes admission for 3 Days plus Meet & Greets, BBQ buffet, Poster. Plus reserved Seating in Rock Club. Seating in Music Joint not reserved.