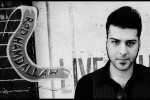 ROD HAMDALLAH
Born and raised in Clifton, NJ, Atlanta Garage Rocker, Rod Hamdallah has been tearing up Atlanta's vibrant music scene sincebefore he was old enough to order his first drink. At 16, Rod began soaking up the Southern Delta Blues and Garage Rock sounds at a relentless pace; Influenced by early Punk, 50's and 60's R&B and Garage Rock, Rod took his sound to another level. At 17, he started sharing the stage with influences such as, Sean Costello, Dexter Romweber and more.
Rod's original musical elements are rooted in Blues, Garage and Early Country. Low-fidelity, dark storytelling and American Roots Music play a big part in the song writing. He creates a sound that can be likened to artists such as, The Sonics, Captain Beefheart, and more current acts such as The Black Lips and Tom Waits.
Debut EP 'Think About It' comes out May 1st. Garage Rock and Lo-fi Bluesy vocals throughout all 5 tracks. The single "Think About It" keeps your head shaking with dirty guitar and a punk attitude, while the soulful vocals keep their place. "Carry You Home" featuring Colonel J.D. Wilkes of Th' Legendary Shack Shakers adds banjo and dreamy Wurlitzer piano to the Bluesy western tune. You can hear hints of The Sonics, 60's Soul Music and parts similar to artists such as The Black Keys and Jack White.
Crafting a sound from all influences and personal experience with dynamic variation and melodic vocals.
In February of 2012, Rod joined the popular Swamp Blues Rock and Roll band, Th' Legendary Shack Shakers. Touring all over the nation and Europe, he always seems to be playing guitar somewhere. Also, joined the band The Dirt Daubers, with band mate JD Wilkes.
Rod is currently touring.
-Creative Loafing Atlanta's Best of 2011- "BEST LOCAL BLUES ACT" (Critics Pick). "An Atlanta guitar slinger with a swooping pompadour, Rod Hamdallah has swiftly risen through the ranks of Atlanta's die-hard music scene by taking cues from such hometown icons as the late Sean Costello and Donnie McCormick. With a blend of delta blues, electric roots and garage rock girth, Hamdallah has tricked out a sultry sound and presence that's recharging the blues and garage rock. He's what the old heads who lurk in the shadows at the back of the bar refer to as the real deal, and they ain't lyin'."
— Creative Loafing Atlanta, Creative Loafing