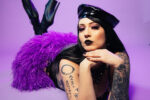 AMMUNITION
(Burlesque Dancer)
Ammunition is co-founder of the performance troupe SS-Triple X. She has been gracing Chicago's stages as an independent performer since 2006. She specializes in neo variety burlesque, feather, parasol, silk fan and LED isis wing dances, fire-eating and breathing, palm torch, angle grinder acts and body modification rituals. Merging visual percussion with power tools, Ammunition leaves the audience hot in their seats!
Ammunition holds residency at Chicago's most notorious party, Porn and Chicken Dance Party! She is a resident performer at Debonair Social Club's No Tell Motel produced by Sammy Tramp! She is an active participant in Chicago's Burning Man Community and in Black Rock City. She also was featured grinding sparks for Steve Aoki, Skism, Derrick Carter, Figure, Buku, Felix Da Housecat, Tommie Sunshine and Ghastly! You may have even spotted her onstage grinding for 2011- 2014's Northcoast Music Festival, Wavefront Music Festival, Spring Awakening Music Festival in 2012-2016, Life in Color and Reaction NYE at Rosemont! She has returned to the stage in Madison for the Fire Ball Masquerade for 4 years in a row and will be returning 2017! She made her Show Me Burlesque debut in St. Louis and Snake Oil Festival in NOLA in 2016!
She was nominated, competed and won the Performing Artist of the Year award from Chicago Raw Artists in 2011. She also won Best Gogo Dancer of 2015 for Chicago Nightlife Awards!
Ammunition is fire and grinder insured through Specialty Insurance Company.
She is locked and loaded, she is Ammunition.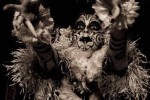 RED RUM
(Burlesque Dancer)
Red Rum is a multidisciplinary artist whose formal background is in painting and video art. Burlesque brought together the perfect combination of her love for makeup, prop building and horror film with the catharsis of a live audience. Drawing from a variety of influences she brings to the stage a unique combination of burlesque and performance art, choosing narratives that combine elements of sex, death and humor – the great social levelers. Known for her unusual costumes and skilled improvisation she strives to give audiences something they have never seen before and may never see again.
Red Rum is a core member of Hot and Heavy Burlesque in Chicago, IL and a frequent guest performer of the Dead Man's Carnival in Milwaukee, WI. She also performs around Chicago with SS-Triple-X, Vaudezilla, Angela Eve and Eve's Parlor Burlesque, Cirque De La Femme, the 1901 Gallery Theater, Ties and Tassels and the Festival of Flesh. When not performing she works full time at the School of the Art Institute of Chicago and collaborates with her husband, sideshow artist, Sanjula Vamana. Together with their son Dexter they continue to build their house of oddities.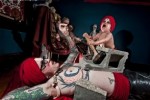 SANJULA VAMANA
Ladies and gentleman! Boy's and girl's! Step right up and feast your eyes upon this truly amazing spectacle!!! His name, the main attraction of any midway, stage or stand fortunate enough to attain and showcase this modern day marvel! What's in a name you may ask? Come here, and I will share with you the most phantasmal of all legends, unbeliever's, come forth and I shall reveal to you the strange and mystical truth about the man, and the myth. He is called, "SANJULA VAMANA"! A name earned by years of dissertatious isolation, and the most unparalleled of all human suffering. Watch as he seamlessly binds the edges of almost certain death and human wonderment into a quilt of perplexing paraphilias guaranteed too warm you to the very core. He is the one, the only SANJULA VAMANA! Often imitated, never duplicated! No gaffs, no gimmicks, no doubt! BEHOLD! BELIEVE! BEWARE!