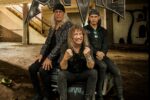 ANVIL
Anvil is Anvil! A self-confident statement. A band philosophy. And what's more: a life motto. Anvil is Anvil, that's the title of their latest album. And the name says it all: an unambiguous, uncompromising recording, typical of this band. At the same time it's fresh, occasionally surprising and generally exciting through and through. A stalwart metal manifesto by a band who stand for authenticity and credibility like few others in this fast-lived business. "We're sometimes criticised for never changing," guitarist and vocalist Lips Kudlow explains. "But why should we change something we're renowned for? Isn't it much more important to stay faithful to yourself? To do what you do best? The idea behind our latest album is: we are what we are, and that's how it's going to stay!" For all Anvil fans, this is the best news of the year. And the all-important date for 2016 has already been scheduled: Anvil is Anvil will be released by Steamhammer/SPV on 26 February 2016. So be sure to mark the day in your diary!
Because Anvil is Anvil presents Lips Kudlow, drummer Robb Reiner and their new bassist Chris Robertson in a thoroughly magic metal moment. Kudlow: "Time will tell whether this album is the absolute pinnacle of our career. But I would already refer to it as ´gaining the momentum`. The year 2013 was a perfect new start for Anvil. We were touring, went on to write the new material, toured again and returned to compose some more. During that time, the new line-up gelled into a real unit. The arrival of Chris was just as significant for us as the film back in 2008. He helped me enormously with my vocal lines, which is why my voice sounds better than ever on stage and also in the studio."
The same could be said of the new material. Anvil is Anvil sounds all of one piece and presents the band's amazing diversity, combined with their conscious loyalty to the compositional DNA of their own classics. ´Die For A Lie` for example sounds like a contemporary version of ´Jackhammer` and the stomping ´Runaway Train` features the same directives as ´Smoking Green`, only based on Kudlow's present-day maturity. "I practically graduated from the Bob Marlette University," the Anvil frontman praises the American producer with whom the band recorded their 2011 release, Juggernaut Of Justice (2011). "Bob showed me how to write songs which really mean something. So when I started to compose this time around, I was perfectly groomed."
Talking of which: Anvil is Anvil was produced by Martin ´Mattes` Pfeiffer (U.D.O.) at the Redhead 4 Studios in Pulheim near Cologne, Germany. For Kudlow, whose family is Jewish, as is drummer Robb Reiner's, it was a special moment to work with a German producer in a German studio. "There's a song on Anvil is Anvil that's called ´Forgive Don´t Forget`, which says everything about our attitude. Nobody is guilty of anything that happened before their time, especially since Germany has critically examined and come to terms with its own past. Anvil have always been welcome in Germany, even during difficult phases. When we think of Germany, we think of friends, not war criminals." Kudlow calls himself an idealist who takes a clear political stance with songs such as ´Gun Control` and ´Die For A Lie` and also denounces the ambiguous role of the church. He says: "Religion is frequently used to involve people in military conflict. Hate in the name of God – that's just wrong!"
WASTEGATE
Wastegate is a metal band that formed in 2008 since then completing 12 original CRUSHING metal songs all showing influences of Death, Melodic and Thrash metal, filled with heavy riffs and they're own unique solo's, then acquiring a new front-man mid 2010, Wastegate is now ready to unleash hell upon metal and music fans of all kinds everywhere.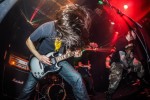 CRUSADER
Hailing from Chicago and the UK, CRUSADER is relatively new to the metal scene in Chicago, although they are all veterans of playing live music, having only been officially a band since spring of 2010. Tired of hearing run-of-the-mill corporate produced 'metal', CRUSADER decided to raise the flag and rally the troops to their banner.
Raised on classic rock, speed metal and thrash through to doom, and everything in between and beyond, CRUSADER proudly and unashamedly wear their influences on their sleeves.
Early 2011 saw the release of CRUSADER's self released EP 'Rise of the Templars' which has received rave reviews:
'If you close your eyes, you can picture hundreds of spiked gauntlets, punching the sky, lock step, united in war against poseurs. When the song takes off, it's a groove thrasher with crooning vocals that reminds me a lot Death Angel' – American Aftermath Webzine
'Rise of the Templars' is one great epic metal release, I do love the bass sound, this is indeed everything I want from a metal release in all fairness right down to the Grave Digger inspired EP cover artwork. The gauntlet is laid down and the challenge is accepted. Setting their stall out to emulate the metal giants (credit vidovic at dhead tech), Crusader makes a good account of themselves and I for one simply love this EP' – Brutalism Webzine
'This is prime NWOBHM inspired heavy metal taking you back to the days of Black Axe and Angel Witch…' – Powerplay UK Magazine
'Their NWOBHM sound, the epic-driven song titles and the cool performance are enough to guarantee you that you are gonna have great time when these guys are onstage. During their 30 minutes' performance, I enjoyed "Templar" and "Asgard's Fire" and the sure thing is that I'm going to dig their EP asap. Just a perfect way to warm up for ANVIL's invasion, don't ya think? – Metal Kaoz review – show with ANVIL
2012 will see the band recording their full length album and taking their sound all over the country. Think of a Crusader tank driving over a minefield littered with the skulls of the enemy dead…they're taking it back to the roots: Drinking beers, throwing the horns and playing metal…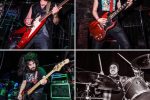 BIBLE OF THE DEVIL
With their twin guitar harmony attack and vocal hooks, Bible of the Devil have always kept themselves firmly grounded in their classic rock and metal influences. Their style reminds us that rock music can be catchy and brutal at the same time.